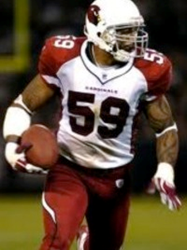 ...hard work beats talent when talent refuses to work hard.
Atlanta, GA (PRWEB) December 05, 2012
On Monday November 26th, 2012, Laurie Genevish host of Performance Difference Radio on Business RadioX®, was joined by former NFL Player Eric Johnson to talk about his career, what he's learned and how he is helping companies improve employee performance through exercise.
Eric works with athletes and his main goal is to keep them in top shape while continuing to focus on their lives as they move to the next level. He says this works for anyone, not just athletes and adds, "hard work beats talent when talent refuses to work hard."
Laurie and Eric talked about the type of training expertise Eric offers and how his experiences in college and pro football can be applied not only to athletic training, but to the workplace.
To learn more about Eric, and EJ Performance listen to the complete interview on the Performance Difference Radio page for Business RadioX®
About Performance Difference Radio
http://theperformancedifference.businessradiox.com/
The Performance Difference is a weekly radio show hosted by Laurie Genevish on Mondays at 11:30am EST on BusinessRadioX.com. The show highlights companies' success strategies for hiring the right people and building employee growth and features Human Resources professionals, managers of recruiting firms and human development personnel. Topics covered include strategies that are working (and those which aren't) as well as trends in the industry.
Host Laurie Genevish is a skilled performance improvement professional with more than 15 years of assessment and learning experience. Her extensive expertise encompasses strategic development, design, implementation and facilitation of technical, employee and management development programs.
About Business RadioX® :
Business RadioX® provides a turnkey solution for business owners who want to leverage the power of internet radio to meet their best prospects, establish credibility for their organization and heighten the placement of their brand in search engines rankings. With a professional venue and a proven formula, Business RadioX® helps hosts podcast their shows and create a regular stream of dynamic content to share with their prospects and feed the search engines every week. Programs are recorded and streamed live to the internet from our studios in the greater Atlanta area. For more information or to hear a live show, visit: http://www.businessradiox.com.
###