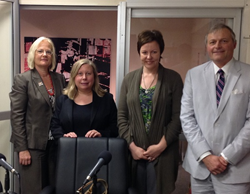 GCIV offers the opportunity (for Atlantans) to engage in international conversations with incredible people without traveling.
Atlanta, GA (PRWEB) April 21, 2013
On Tuesday April 16th, 2013, Elizabeth Gordon, host of Results Matter radio on Business RadioX® and Burr & Forman Partner Anton Mertens were joined in-studio by Georgia Council of International Visitors (GCIV) Executive Director Shell Stuart along with this year's Chair of the Consular Ball, Yelena Epova and Annabelle Malins, British Consul-General, Atlanta to talk about the growing importance of being an international city and what GCIV does to support Atlanta's interest in the global marketplace.
Executive Director Shell Stuart shared the background and mission of GCIV mentioning that the organization is 50 years old, and does a range of things from hosting dinners in private homes for visiting professionals and dignitaries to their annual Consular Ball which is coming up Saturday April 27th and is in its 32nd year. She also talked about the professional and networking opportunities that they helped facilitate for international visitors but said the "visitors are often most excited by the dinners they share in private homes" where they get to meet Atlantans on a more personal level.
Yelena Epova, a partner at Habif, Arogeti & Wynne, LLP was still recovering from the firm's busy tax season, but came to the studio to discuss the 32nd Annual International Consular Ball which she is chairing this year and is very passionate about. She was a little mysterious about all of the special events planned for the evening, but did share that the auction is actually online this year which will give more people a chance to participate and a longer time to study the available items and figure out what they want to bid on. Regarding the organization, Yelena added, "I amazed by true passion of people who want to make Atlanta an international city just because they care about the city." She noted that these people who give their time volunteering are not doing it as a means of networking or because there is something in it for them, but because they truly care.
Annabelle Malins joined the conversation to discuss her role at the British Consul-General for Atlanta and the southeast and to talk about Atlanta's growing importance in the international community since the Olympics in 1996. She says, "GCIV offers the opportunity (for Atlantans) to engage in international conversations with incredible people without traveling." She noted that this an especially great opportunity for young people interested in international careers.
Burr & Forman Partner Anton Mertens, whose focus is on immigration law and who has traveled extensively added "I commend GCIV for helping to make Atlanta an international city." He also noted that the Consular Ball is a wonderful event.
To learn more about GCIV and the guests featured, listen to the complete interview on the Results Matter Radio page for Business RadioX®
About Burr & Forman's Results Matter Radio
http://resultsmatterradio.businessradiox.com/
Results Matter Radio brings you pertinent business information and real life solutions to help drive desired results – whatever your business may be. We interview Business Leaders and Trusted Advisors about the most important issues in Commercial Real Estate, International Commerce, Healthcare, Family Business, Corporate Litigation, Finance, Philanthropy, Estate Planning, and more.
About Business RadioX® :
Business RadioX® provides a turnkey solution for business owners who want to leverage the power of internet radio to meet their best prospects, establish credibility for their organization and heighten the placement of their brand in search engines rankings. With a professional venue and a proven formula, Business RadioX® helps hosts podcast their shows and create a regular stream of dynamic content to share with their prospects and feed the search engines every week. Programs are recorded and streamed live to the internet from our studios in the greater Atlanta area. For more information or to hear a live show, visit: http://www.businessradiox.com.
###