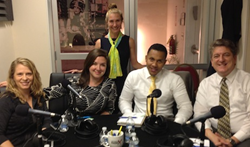 ...good design is green design.
Atlanta, GA (PRWEB) October 08, 2012
On Tuesday October 2nd, 2012, Elizabeth Gordon, host of Burr & Forman's Results Matter radio on Business RadioX™ was joined in the downtown Atlanta studio by the Communications and Project Manager from the Atlanta Mayor's Office of Sustainability, Aaron Bastian along with Tom Boeck, a principal with Sustainable Options, Eryn Emerich, the Managing Director and Sustainability Officer at Footprint Sustainable Talent and Susie Spivey-Tilson, a LEED Accredited Professional and ISO 14001 Internal Auditor with tvsdesign.
The group discussed everything the Better Buildings Challenge and sustainability is important to the city of Atlanta as well as what sustainability really means and how it applies to existing and new building projects and what the job market looks like for sustainability professionals.
Bastian explained that true sustainability is not just good for the environment, but good for the economy as well and that allows the city to flourish.
Tom Boeck of Sustainable Options agreed explaining that if making a building project sustainable bankrupts a company it is meaningless, so he works to help companies build projects that are both sustainable and within the budget. He further explained that in this economy where there is high vacancy and low occupancy, buildings with sustainable features are able to compete better because the provide a better long term proposition for tenants.
Host Elizabeth Gordon questioned what certification really adds to the mix, and both Boeck and consultant Susie Spivey agreed that certification is proof to consumers that you did what you said you were going to do. Susie also said that design has gotten to a point where good design is green design.
Eryn Emerich added to the discussion explaining that as more and more consumers demand sustainability from the companies they do business with, the job market for sustainable professionals grows. She noted that she is seeing an upswing in the demand for talent in the field and is encouraged by the growth she is seeing nationwide.
To learn more about the City of Atlanta's Sustainability initiatives, and the work being done by Sustainable Options, tvsdesign and Footprint listen to the complete interview on the Results Matter Radio page for Atlanta Business RadioX™.
About Burr & Forman's Results Matter Radio
http://resultsmatterradio.businessradiox.com/
Results Matter Radio brings you pertinent business information and real life solutions to help drive desired results – whatever your business may be. We interview Business Leaders and Trusted Advisors about the most important issues in Commercial Real Estate, International Commerce, Healthcare, Family Business, Corporate Litigation, Finance, Philanthropy, Estate Planning, and more.
About Business RadioX™:
Business RadioX™ provides a turnkey solution for business owners who want to leverage the power of internet radio to meet their best prospects, establish credibility for their organization and heighten the placement of their brand in search engines rankings. With a professional venue and a proven formula, Business RadioX™ helps hosts podcast their shows and create a regular stream of dynamic content to share with their prospects and feed the search engines every week. Programs are recorded and streamed live to the internet from our studios in the greater Atlanta area.
###