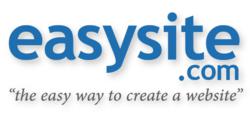 (PRWEB) April 04, 2013
Easysite has now rolled out its new professional business website builder which allows business owners to create their own business website development the same day they sign up for the Easysite service.
Easysite wants potential customers know that if they can use email and know how to create an email, attach a picture and send it, then they are capable of being able to build their own web pages with content and pictures. Easysite also states that integrating social media buttons is as simple as copy and pasting a link and saving it.
This new business website builder platform enables business owners to add new pages and update pages with just a simple click of a button. Business owners can add pages, such as forums, an online shopping section that lists products for sale, a photo gallery, video gallery and so much more. The cost of utilizing this business website platform and having all the tools you need at your disposal in order to maintain, update and get daily backups of their website (which is extremely important) is only $19.95/month. The service also includes free phone, email and video support. That means that if a business owner needs to change something on their website and they don't know how to do it just yet, that business owner can call using the phone support and speak to a certified Easysite developer that works directly for Easysite.com and have them walk the business owner through any changes or upgrades they would like to make on their website.
Easysite is truly making it simpler than ever to have a professional website without having to spend thousands of dollars and deal with undependable web designers.