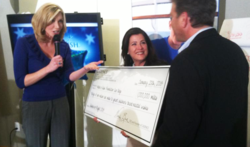 We are blessed to be able to give back in such a powerful way.
La Jolla, CA (PRWEB) February 13, 2013
Cadence, in partnership with Make-a-Wish Foundation San Diego, has initiated a fundraising campaign to raise miles for Wishes-in-Flight. This program uses donated air miles to support the wishes of children who dream of traveling to destinations around the world with their families. To start their campaign off with a bang, Cadence CEO and Founder, Wendy Burk, presented a pledge of a whopping 1 million miles during the 2013 annual Wishes-in-Flight telethon on NBC 7 San Diego. (See news clip here.) "
Wendy is proud of the enthusiasm the Cadence community has shown so early on, and looks forward to reaching their goal in record time. "As a full service travel management company, we are able to combine a myriad of travel industry resources with the efforts of our strategic partners, employees, affiliates and loyal clients. We are blessed to be able to give back in such a powerful way."
As a Make-a-Wish San Diego Travel Ambassador Partner, Cadence has also committed to volunteering at major local fundraising events in San Diego throughout 2013, such as the 4th Annual Walk for Wishes on April 27th, and the Roll Out the Barrel Auction on July 14th.
The most personal experience for Cadence so far has been meeting Kyle, a local 11-year old with a congenital heart anomaly who dreams of visiting his family in Cambodia for the very first time. Cadence has personally adopted Kyle's travel wish to ensure it is granted.
If you have expiring Delta, United or US Airways frequent flier miles, Cadence will transform them into granted wishes through the Make-a-Wish Foundation... Once donated, your miles never expire! You can easily give your air miles by visiting Cadence's official charity page here.
About Cadence:
Cadence is a full service travel management company specializing in seamless, simplified business travel, flawlessly executed meetings and incentives, and artisan crafted vacations. As a branch of the Tzell Travel Group, the largest travel management company in the world, Cadence can offer a local touch with a global reach. As proud members of Virtuoso, Cadence offers exclusive amenities and complimentary upgrades. Find Cadence on social medial using the handle "cadencetravel."