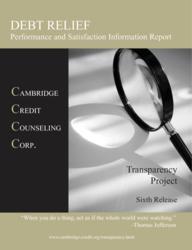 In stabilizing someone's financial situation, we often have to change entrenched behaviors.
Agawam, MA (PRWEB) December 11, 2012
Cambridge Credit Counseling today released its sixth Debt Relief Performance Report. The report is a key component of Cambridge's "Transparency Project," a campaign designed to empower consumers, create an industry standard for reporting client performance data, and educate policymakers about the value consumers receive through debt relief programs.
Along with a number of continuing data metrics reported on in prior releases, our latest edition focuses on the benefits of personalized counseling and, specifically, how one-on-one assistance is crucial to restoring consumers to financial health. It also addresses what some consider a controversial topic: creditor donations to non-profit counseling agencies through what are known as "Fair Share" contributions and grants.
"In stabilizing someone's financial situation, we often have to change entrenched behaviors," noted Cambridge's President Christopher Viale. "Our well-developed processes and one-on-one approach are designed to accomplish this, helping our clients regain control of their finances. This transformation takes time, and we are grateful for our funders whose support allows us to commit additional resources to help those in need."
Cambridge's report (http://www.cambridge-credit.org/transparancy.html) defines a variety of key measures that collectively enable consumers to gauge the typical results of working with the agency. Statistical highlights of Cambridge's latest report include:

87% of clients with tighter-than-average budgets were able to make their first three program payments.
Clients who enrolled in our DMP saw their interest rates drop by an average of 14.5 percentage points.
The typical DMP payment was $141.58 less than what the client had been paying on their own.
Cambridge waived or reduced 27% of initial fees and 36% of monthly fees for clients enrolled during the first six months of 2012.
94% of DMP clients who had begun budgeting found that it improved the way they manage their finances.
89% reported that adopting the expense-tracking methods recommended by their counselor helped them identify expenses they could reduce.
Overall client satisfaction with the counseling experience at our agency was 96.6% for the first half of the year, while satisfaction with the Client Services we provide was 95.1%.
The intention of Cambridge's Debt Relief Performance Report is to promote a more open and transparent environment within the credit counseling profession. The variety of counseling and education services we provide are vital to supporting individuals looking to regain financial wellness. Helping consumers learn how to manage difficult financial circumstances and create a pathway to financial stability is especially important in uncertain economic times. Cambridge once again invites any agency with questions about this initiative to contact the agency at (888) 694-7491, or at transparency(at)cambridgecredit(dot)org.
About Cambridge Credit Counseling
Cambridge Credit Counseling Corp. is a professional housing and credit counseling agency dedicated to improving the financial literacy of young adults, and to providing financially distressed Americans with education and debt management services appropriate to their needs. Visit Cambridge Credit Counseling online at http://www.cambridgecredit.org. To learn more about Cambridge Credit Counseling's community initiatives, please visit http://www.youtube.com/CambridgeCredit.