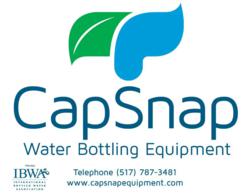 Jackson, MI (PRWEB) May 14, 2013
The CapSnap Equipment company again has once again brought forth leading-edge industry innovative technology for water bottling solutions and is providing their specifications and features online at http://www.capsnapequipment.com.
CapSnap Equipment has provided reliable Bottling Equipment solutions and expertise for over 30 years. Over time, CapSnap Equipment has grown and in doing so has carefully considered feedback from customers. The company as a result, continues to lead the industry in all water bottling needs with products and services that are second to none.
According to Rose Rocha, General Manager of the CapSnap Equipment Company, "While the site's core content is relatively the same, the relaunch is intended to give the site a new, fresher look and ease of navigation. The site now offers multiple equipment images as well as informational equipment videos highlighting the operational production activities on a real-time basis".
Headquartered in Jackson, MI USA, the CapSnap Equipment Company is the leading provider of high-quality, state-of-the-art HOD Water bottling equipment and services. CapSnap Equipment produces and services automated bottling systems for washing, sanitizing, filling, and capping, etc. for 3, 4, 5, and 6-gallon water bottles. CapSnap Equipment's manufactured automated systems range from 150 to 3,000 bottles per hour capacities, making CapSnap equipment an ideal fit for water bottling operations of all sizes of plant facilities.
All CapSnap manufactured water bottling equipment meets or exceeds IBWA, and FDA standards. CapSnap Equipment is also NSF food-zone component certified. CapSnap Equipment can also custom build to any clients design specification.
CapSnap Equipment offers fully customized water bottling system designs, client production requests to meet any and all project requirements, full support installation, and systems integration services. CapSnap Equipment also provides global support service for water bottling equipment, offering spare, and replacement parts as well as full field servicing options (Breakdown restoral, Preventative and reoccurring scheduled maintenance, for all makes, and types of manufactured water-bottling plants.
For more information:
Website: http://www.capsnapequipment.com
Email: sales(at)capsnapequipment(dot)com
Phone: 1 (800) 966-WASH