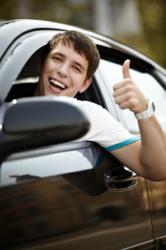 This is not going to be the boring stuff they are exposed to in school. This is going to be real advice from real experts who understand how teens think and what unique information they need
San Diego, CA (PRWEB) June 18, 2013
CarHistory.us.org has created a guide to help teenagers learn how to drive safely, the company announced yesterday.
"One of the most dangerous times in your life to drive a car is when you are a teenager," a company official for CarHistory.us.org said. "They don't have the experience that other drivers do. With that in mind, we decided to create a practical guide that can help them drive safely and stay alive."
The guide was prepared by driving experts and will be available for anyone who uses the CarHistory.us.org website for public records searches, he said.
"You need to explain safe driving to teens in a language they can easily understand," he said. "This is not going to be the boring stuff they are exposed to in school. This is going to be real advice from real experts who understand how teens think and what unique information they need."
The spokesman said that CarHistory.us.org has always been concerned about the safety of their customers.
"We were created to protect consumers," he said. "That doesn't just apply to getting the records they need. It applies to anything CarHistory.us.org can do to keep people safe."
The guide will be available on the members' area of the site, and also be sent out as a printed guide, he said.
"We want to make sure everyone who needs this guide is able to gain access to it and refer back to it," he said. "Road safety is important and our teens are the future of our country. Let's protect them."
About CarHistory.us.org:
CarHistory.us.org, an online source for public records, takes pride in providing the most comprehensive vehicle history reports in North America. With hundreds of users daily, motor vehicle report availability and customer service are top priorities for CarHistory.us.org. Visit CarHistory.us.org today to chat with a live representative, call 1-855-482-6465, or email Manager(at)CarHistory(dot)us(dot)org with any questions or concerns.