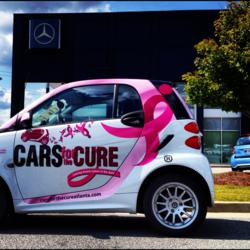 RBM-North's Cars for the Cure event is an excellent opportunity for anyone interested in a new Mercedes-Benz or Smart car to make their purchase with a purpose: making a difference in the fight against breast cancer.
Alpharetta, GA (PRWEB) October 13, 2012
Each day throughout the month of October, RBM-North will feature special treats and giveaways donated by local community businesses who support the cause. Keep an eye out all over town for the Cars for the Cure Smart car! It will be making an appearance at various Susan G. Komen for the Cure events. Everyone who donates through the Cars for the Cure Atlanta website or has the chance to win the Smart car! See details on website.
RBM-North General Manager, Randy Powell, believes strongly that small gestures from individuals can make all the difference. "I am thrilled to see so many people and businesses in ourcommunity come together with RBM-North, and donate their time and their merchandise to make each day of our month-long event a success in the fight against breast cancer. I encourage our neighbors to stop in, enjoy the festivities and support Cars for the Cure – our joint effort with Susan G. Komen for the Cure. Together we can make a real difference in the lives of women in our community."
Justine Boyd, Susan G. Komen for the Cure Greater Atlanta executive director is excited about their new partnership with RBM-North. "Komen Atlanta would like to extend a huge thank-you to RBM-North for their generosity in donating a car to our organization and helping to raise breast cancer awareness. We look forward to awarding the Smart car to one of our loyal supporters and raising money to assist the medically underserved in metro Atlanta during National Breast Cancer Awareness month in October."
Krista Rolleri, Smart car Brand Manager at RBM-North is extremely excited to see how the public will react to this exclusive month-long event. "RBM-North's Cars for the Cure event is an excellent opportunity for anyone interested in a new Mercedes-Benz or Smart car to make their purchase with a purpose: making a difference in the fight against breast cancer."