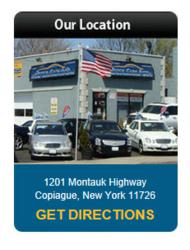 The bottom line is that we've got more vehicle storage and increased buying ability
Copiague, NY (PRWEB) December 11, 2012
Quick Cash Auto Inc. (http://www.quickcashauto.com), located in Copiague, has announced the acquisition of neighboring dealership property, effectively doubling capacity and purchasing ability. As the leading pre-owned car buyer, Quick Cash Auto Inc. prides itself on providing the customers looking to sell a used car or truck with fast, on-the-spot appraisals and cash, the very same day.
"For customers of Quick Cash, the bottom line is that we've got more vehicle storage and increased buying ability," said Brian Keegan, Chief Executive Officer of Quick Cash Auto. "With the additional space, Quick Cash Auto can escalate the purchasing of any unwanted vehicle so if you have been thinking about selling your car or trading it in, please call us today or visit us at Montauk Highway and Hawkins Boulevard in Copiague." he added.
Quick Cash Auto also offers a "we come to you" mobile service, on case by case bases, depending on the type of vehicle and distance of travel. This service will provide a customer with an on-site professional vehicle appraisal at a customer's home or office within the Long Island New York area, eliminating even the need to visit the store.
Quick Cash Auto Inc.
As the leading pre-owned car buyer on Long Island, Quick Cash Auto Inc. takes pride in buying quality pre-owned cars, trucks, and SUVs for fast cash. Long Islanders looking to sell a used vehicle quickly and easily can expect fast, knowledgeable service, professional quotes, fair prices, and the ability to walk off the same day with cash or credit towards the purchase of a new or used car.
For more information visit: http://www.quickcashauto.com