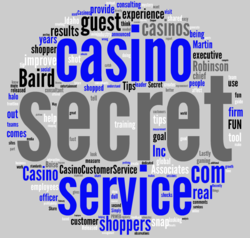 Casinos can get more out of their secret shoppers with these three tips.
Boise, Idaho (PRWEB) February 22, 2013
Casino consultants at CasinoCustomerService.com have just released three tips on improving the results of casino secret shoppers.
"Casino secret shoppers work with the casino to provide a real perspective of the property's guest service," says Martin R. Baird, chief executive officer of CasinoCustomerService.com and Robinson & Associates, Inc., a guest service consulting firm to the global gaming industry. "But secret shoppers are no secret. Casinos have used shopping services for years to report on the customer service that front-line employees provide."
Baird offers the following tips to get the most out of secret shoppers.
The Goal is to Improve Service. "The goal of secret shopping or mystery shopping is not to catch employees doing something wrong," Baird says. "The goal is to provide observations based on specific service standards so the casino can use that information to improve the guest experience.
"If employees know that the casino is shopped regularly, it creates a halo effect on service. Employees smile more because there's always the possibility they're being shopped."
Provide Fun and Interactive Training. Employees should be trained on what is expected of them when it comes to providing outstanding guest service, Baird says. "Casino customer service training should be FUN," Baird notes. "After all, casinos are part of the entertainment business. It shocks me when casinos offer dull training and then tell employees to go out and make it fun."
It's A Snapshot. Casino secret shoppers give gaming properties a snapshot of what guests may experience when they visit a casino and it is no more than that, Baird says. "It's important for casino executive teams to remember that they need to analyze the secret shoppers' results and make additional observations," Baird explains. "Casino secret shoppers are a great tool to help properties improve their service. But like any tool, they are not the only thing needed to create guest advocates."
Read more in this San Francisco Chronicle article.
About Robinson & Associates and CasinoCustomerService.com
Martin R. Baird is a casino consultant and chief executive officer of Robinson & Associates, Inc. For 20 years, Robinson & Associates has been dedicated to helping casinos improve their guest service so they can compete and generate future growth and profitability. A Boise, Idaho-based consulting firm to the global gaming industry, Robinson & Associates is the world leader in casino guest experience measurement, management and improvement. Recently, it announced Simply Share, a real-time customer feedback platform that makes it fast and easy for casino customers to share their experience directly with casinos instead of posting comments online at social media sites.
For more information, visit the company's Web site at http://www.casinocustomerservice.com or contact Lydia Baird, director of business development, at 208-991-2037 or lbaird(at)raresults(dot)com. Read about casino customer service improvement at Martin Baird's blog at http://www.mbaird.blog.com. Robinson & Associates is a member of the Casino Management Association and an associate member of the National Indian Gaming Association.