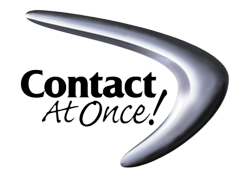 Fast and easy setup and immediate conversions—chat has changed the game.
Atlanta, GA (PRWEB) April 30, 2013
Century Apartment Homes, a leader in the multifamily/apartment residential market, has chosen Contact At Once! to power apartment chat solutions for their various properties. Contact At Once! will help Century provide an instant point of contact between prospects and leasing agents, and between residents and property staff.
After a pilot chat program, Century saw such good conversion ratios from chats to leases that they decided to add the Contact At Once! chat product to the majority of their properties. They now have chat on 32 properties throughout Florida, Georgia, North Carolina, South Carolina and Texas. This instant, real-time connection available right when the prospect sees the listing—no matter if they are on the run or at work—allows Century's leasing professionals to better influence decisions and set more appointments.
"Fast and easy setup and immediate conversions—chat has changed the game," says Sparkle Hammond, Director of Marketing for Century Apartment Homes.
With this one solution, Century is able to connect and chat with interested prospects across the Contact At Once! network of sites where their properties are listed—be it the actual property website, Apartments.com, ApartmentFinder.com, Craigslist ads or Facebook pages. On average, multifamily housing communities can experience a 25 percent or higher increase in responses when they add Contact At Once! apartment chat to these places.
"With the vast majority of apartment hunters doing the legwork online, it just makes sense to open the communication pathways and offer them instant answers via chat and text," adds Ed Javier, vice president of Apartment and Real Estate Solutions for Contact At Once!. "And the easier you make it for prospects to start the conversation, the more chances you'll have to 'personalize' the property for them and encourage a physical tour."
Visitors to Century's sites and listings are now welcomed by a customized chat greeting when a leasing agent is available to answer their questions. When the visitor clicks on the chat button, a window opens to display the name and photo of the leasing agent (or property) who is responding to the chat request. More details about apartment chat solutions are available at http://www.apartmentchat.com.
ABOUT CENTURY APARTMENT HOMES
Headquartered in Atlanta, Ga., Century Apartment Homes operates in multiple markets across the country. Offering luxury living apartment homes with an emphasis on resident satisfaction, Century creates a convenient living experience with a range of on-site amenities and locations near centers of employment, shopping, transportation and entertainment. For more information, please visit http://www.century-apartments.com.
ABOUT CONTACT AT ONCE!
Contact At Once! pioneered the use of live chat and text in online apartment advertising, enabling property managers and leasing agents to increase lead volume from current advertising and website investments, while maximizing efficiencies for existing staff. Businesses that utilize Contact At Once! chat and texting solutions typically experience an increase in online conversions of 25 percent or more. Over 12,000 companies currently rely on Contact At Once! to connect with potential buyers and sellers. For more information, visit http://www.apartmentchat.com.