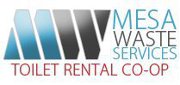 Poo & Pee Portability
Chicago, IL (PRWEB) April 29, 2013
Ben G. of Mesa Waste Services says that customers can "pick from a whole range of models and feel assured to have rented the best possible option for their outing and/or event, all while receiving top notch service, from planning to delivery." Mesa Waste currently has standard porta potties with urinals and the option of hand sanitizer dispensers, units with a toilet and sink along with fresh water, soap, and paper towels, and handicap accessible units. They also offer units with sinks and plastic flush-able toilets, which block the view of the interior waste, and VIP restroom and shower trailers.
Every unit offered by Mesa Waste is a self-contained restroom with the exception of the restroom and shower trailers, although these can be converted to stand alone units as needed. Mesa Waste is also one of the few sanitation management companies in Chicago to offer a wide range of solar restrooms, portable sink stations, and holding tanks, along with all necessary servicing as required by the client.
Customers and companies interested in renting units from Mesa Waste Services can take the following steps to get the best units at the best price for their upcoming events:

Determine the location (city/state/zip is sufficient), the expected number of patrons, and the duration of the event.
Determine if handicap accessible units are necessary. For private events, it's usually based on whether there will be a guest who needs this type of facility. Public events require at least one handicap unit to satisfy legal requirements.
Determine requirements for set-up and removal, including location, dates, and times. The cheapest cost option is to choose business-day delivery and pickup dates with flexible times.
Provide Mesa Waste with the lot or grove number of your reservation with the Forest Preserve or Chicago Park, requesting an insurance certificate if required, within 72 hours of the reservation.
This level of detailed information during the planning process ensures a smooth and successful event. With this information in hand, contact a qualified waste management specialist at Mesa Waste Services via http://www.mesawasteservices.com.