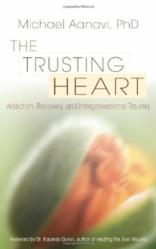 In the context of personal experience, the book offers an unorthodox perspective on addiction and intergenerational trauma, incorporating insights from Jungian psychology, Chinese medicine, and elsewhere
San Francisco, CA (PRWEB) December 04, 2012
An alumnus of the American College of Traditional Chinese Medicine (ACTCM) has recently published a book, "The Trusting Heart: Addiction, Recovery, and Intergenerational Trauma," centered on his personal journey through addiction, recovery and his over 20 years of research, training and mastery of the subjects. Aanavi sheds light on revolutionary ways of understanding addiction.
"In the context of personal experience, the book offers an unorthodox perspective on addiction and intergenerational trauma, incorporating insights from Jungian psychology, Chinese medicine, and elsewhere," said Aanavi when asked about what makes his book so unique.
"Carl Jung (founder of Jungian psychology) spoke of pistis, the trusting heart. He said that this fundamental capacity for trust is the precursor to faith, and that without this essential quality, faith in something greater, faith in one's own process, faith in the wholeness of the psyche is impossible," as said on the cover of "The Trusting Heart". "For the author of this book, pistis involves the ability to trust one's own subjectivity; one's felt sense, regardless of whether it jibes with what is externally acceptable or valid, regardless of the outcome."
Through his studies at ACTCM, Michael Aanavi deepened his understanding of the ways in which Chinese medicine has much to offer for the process of recovery from addiction. That, along with his studies as a psychologist gave him a multifaceted perspective on substance abuse treatment.
"The Trusting Heart" is a compilation of blog posts from Aanavi's popular blog http://www.thetrustingheart.com which is now the book's website. "The Trusting Heart" was published by Chiron Publications.
"Each addict is different and each addict needs a personalized pathway to recovery," said an ACTCM clinician. "This is why it is so important to explore the various avenues of treatment. What works for some, doesn't necessarily work for all."
"The Trusting Heart" is available for purchase on amazon.com or at http://www.thetrustingheart.com. Michael Aanavi is a practicing psychologist based in Berkeley, California, which is his top priority. He finds it extremely rewarding to guide other addicts through the process of recovery.
For more information about the American College of Traditional Chinese Medicine and its holistic practices, please visit http://www.actcm.edu/ or call 415.282.7600 x15.
About the American College of Traditional Chinese Medicine San Francisco
The American College of Traditional Chinese Medicine (ACTCM) has been at the forefront of educating students in Traditional Chinese Medicine in San Francisco since its inception in 1980. Their two degree programs—the Master of Science in Traditional Chinese Medicine (MSTCM) and the Doctorate of Acupuncture and Oriental Medicine (DAOM)—provide a truly exceptional professional education.
ACTCM's community clinics serve as a diverse and demanding training ground for their students, while providing affordable healthcare services to the community. ACTCM's certificate programs in Tui Na and Shiatsu and its introductory classes for the public offer additional educational opportunities for current ACTCM students, healthcare professionals and the general public.
Those who receive acupuncture treatments are informed that sterile, disposable needles will be used. Because the needles are thin, solid and pliable, most people feel little to no discomfort. Patients typically feel energized and relaxed, and are given a recommended course of treatment and self-care based on a specific TCM diagnosis. ACTCM practices treating among other ailments allergy relief, pain management and fertility treatment in San Francisco.