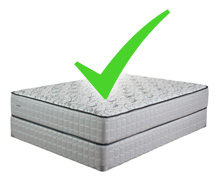 Detroit, MI (PRWEB) May 21, 2013
Standard advice for mattress shoppers often consists of the standard showroom test-drive and little else. However given industry's less than exceptional satisfaction ratings and the increase of tools available to shoppers via the internet, Consumer Mattress Reports sets out to revise this advice in their latest guide, "Choosing The Best Mattress."
This article addresses several components of the shopping process with insider tips and suggestions that may not be readily apparent to many shoppers. From prices to types to tools, readers come away with useful ideas to implement in their quest for a better bed.
Consumer Mattress Reports first looks at prices, offering average ranges and recommending shoppers set a budget. They then introduce the five most popular mattress types and rank them in order of highest to lowest owner satisfaction, and also offer a primer on mattress firmness. One topic of growing importance to consumers proves healthiness and eco-friendliness of products, which the article addresses in regard to mattress materials and additives. Following this are tips for using the internet as a shopping tool.
The final point foreshadows an upcoming post seeks to reduce consumer anxiety about buying a mattress online. One compelling point presented involves the results from an RTI study which indicated that the standard showroom test drive did not equate to people choosing ideal mattresses. Benefits like greater selection, ability to research, and price receive mention, along with reminders to check reviews, contact the retailer, and look for a good return policy.
To bolster the last point, Consumer Mattress Reports highlights the results from their previous seven-brand mattress retailer comparison, in which they chose a memory foam mattress from Amerisleep.com as the best value. Concluding the article, the blog reminds readers seeking the best mattress to look for transparency, take their time, and utilize all available comparison shopping tools.
Consumer Mattress Reports is an online magazine specializing in all things to do with beds and sleep. The easy-to-read blog design offers an inviting format for readers, with well-researched, expert articles on mattress ratings and brands. In addition to reviews and comparisons, the website also covers the latest mattress news and offers helpful shopping information geared towards shoppers.