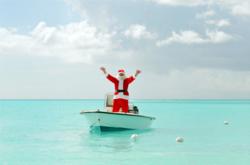 BOLANS VILLAGE, Antigua (PRWEB) December 05, 2012
Jolly Beach Resort & Spa has announced a last-minute sale, one that's sure to get anyone still undecided about a Christmas and New Year Caribbean getaway packing their bathing suits. 'Tis the Season to be Jolly all-inclusive, special rates start at just $122.00 per person, per night based on double occupancy for booking December 5-9, 2012 and travel December 21, 2012 – April 15, 2013. Reservations must be made directly with the resort to qualify for this fifty percent holiday savings offer.
Antigua's Jolly Beach Resort & Spa offers a full schedule of daily activities and entertainment beginning December 22, 2012 to celebrate Christmas and ring in the New Year. Christmas Eve highlights include a performance by the National Youth Choir as well as a holiday dress-up dinner and live entertainment just for the kids. Santa makes a very special arrival on the beach by boat with presents, just in time for a holiday party on Christmas morning . The evening's beach bonfire includes a colorful performance of traditional Antiguan dances, drummology and singing.
For the resort's New Year's Eve party, guests are invited to be "Wonderful in White," a celebration of Antigua's 365 beaches on one that's the best beach by a mile – Jolly Beach. Guests will be treated to a festive dinner followed by the debut of the "Razzle-Dazzle" floor show. A live band and DJ will entertain with Caribbean flair as revelers dance the night away, the clock counts down and fireworks paint the sky.
Warm Antiguan hospitality and a welcoming staff make Jolly Beach Resort & Spa the perfect holiday home away from home. Guests shake off the winter on Antigua's best beach by a mile and enjoy facilities and amenities including non-motorized watersports, children and teens' programs, a games room, and gym as well as daytime activities, the Palms Wellness Centre and Spa, and The Casino at Jolly Beach owned and operated by King's Casino.
To book the 'Tis the Season to be Jolly offer contact the resort toll free at 1-866-905-6559 in the US and Canada or visit http://www.jollybeachresort.com.
About Jolly Beach Resort & Spa
Jolly Beach Resort & Spa, on Antigua's best beach by a mile, offers year-round value and is popular for destination weddings, honeymooners and families. The resort offers its signature all-inclusive rate plan as well as a room-only option for budget-friendly accommodations. Exceptional Value. Excellent Service. Everything vacationers expect and more at Jolly Beach Resort & Spa. For more information visit http://www.jollybeachresort.com or call toll-free 1-866-905-6559 from the U.S. and Canada.