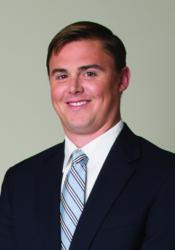 Fredericksburg, VA (PRWEB) December 13, 2012
The personal injury law firm of Allen, Allen, Allen & Allen is pleased to announce that Christopher J. Toepp has joined the firm as an Associate Attorney in the Fredericksburg, Virginia office.
Christopher J. Toepp dedicates his practice of law to helping clients and making his community a safer place. At an early age he has earned a reputation as an exceptional litigator in the courtroom. His expansive trial experience includes hundreds of bench and jury trials. He has an in-depth understanding of what personal injury clients go through in the aftermath of an accident including the physical pain, the impact on loved ones, and the financial burdens incurred on the road to recovery.
A former Division I athlete, Chris graduated from Dartmouth College and received his law degree from the William and Mary School of Law. Before joining Allen & Allen he served as an Assistant Commonwealth's Attorney in Richmond, VA prosecuting a variety of cases including murder, DUI and hit and run. He believes in the court process and enjoys being in the courtroom.
To learn more about Christopher J. Toepp visit http://www.allenandallen.com/christopher-j.-toepp.html
About the Firm:
http://www.allenandallen.com/
The personal injury law firm of Allen, Allen, Allen & Allen has been representing injured Virginians for over 100 years. Their personal injury attorneys are experienced in handling a variety of injury cases including truck accidents, car accidents, brain injury and wrongful death in Virginia and nation wide. They have offices located throughout the state in Richmond, Petersburg, Chesterfield, Mechanicsville, Short Pump, Fredericksburg, Garrisonville and Charlottesville.