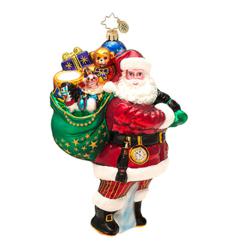 Due to the substantial increase in Christopher Radko ornament sales, we launched our Christopher Radko Gallery website dedicated to Radko ornaments exclusively and providing our customers with all the Radko news and latest Radko ornament introductions
Duluth, Georgia (PRWEB) May 01, 2013
Following a rapid growth Christopher Radko ornaments sales, leading home decor and women's accessories online retailer Peace, Love & Decorating expands with an online website dedicated to Christopher Radko ornaments. Christopher Radko Gallery specializes in the collectible and hand-made Christopher Radko Christmas ornaments, featuring over 700 new ornament designs each year. This expansion of Peace, Love & Decorating allows the customers to receive a more complete and specialized experience with the Christopher Radko products.
The 2013 Christopher Radko Ornament Collection is one of the largest offerings of heirloom quality glass ornaments in years and includes the new Scenes from the North Pole Collection, new Limited Edition ornaments and new Charity Awareness ornaments. Christopher Radko Gallery also features the exquisite 2013 Designer's Choice ornament For All the Girls and Boys, displaying a timeless Santa Claus ready to begin his holiday journey to bring cheer around the world. The entire 2013 collectible glass ornament collection is available for immediate shipment upon arrival from Christopher Radko Gallery, with free shipping on orders over $75. All Christopher Radko ornaments are shipped with the original Christopher Radko tag and charm attached and with an official Radko gift box. 
Christopher Radko ornaments are collectible ornaments both because each year over 400 ornaments are retired and because of the ornaments' high quality. Each Radko ornament is made by hand in Poland in an Old World, European vintage style. The ornament molds are designed by long-time Radko designers, the glass is mouth-blown into the molds, each ornament is lined with sterling silver to give the ornaments their brilliant shine, and finally each ornament is hand-painted. Christopher Radko ornaments can be passed down as family heirlooms because of Radko's attention to quality and detail.
"Due to the substantial increase in Christopher Radko ornament sales, we launched our Christopher Radko Gallery website to dedicated to selling Radko ornaments exclusively," explains Peace, Love & Decorating co-founder Jana Contardi. "We have long admired and appreciated the design and craftsmanship evident in every Christopher Radko ornament and with our Christopher Radko website, we are now able to provide our customers with the highest quality experience and targeted information to enhance the buying experience," adds co-founder Jennifer Cook.
Christopher Radko ornaments are available year round on the Christopher Radko Gallery e-commerce website, http://christopher-radko.com, and in the Peace, Love & Decorating retail store beginning September 25th through the end of each year. Peace, Love & Decorating, a leading e-commerce and brick and mortar home decor and gift boutique, is located online at 3129 Main Street, Duluth, Georgia 30096. Peace, Love & Decorating was founded by Atlanta-based interior designers Jana Contardi and Jennifer Cook. Their goal was to bring their customers the top boutique brands of home furnishings and home decor, designer lighting, vintage-style bedding, luxury bath and body products, boutique women's jewelry, unique women's fashion accessories, and Old World Christmas ornaments.