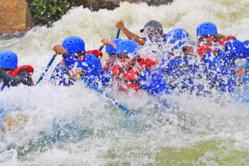 (PRWEB) June 21, 2013
River Runners, a Colorado whitewater rafting company, is now booking class V rafting trips on the Pine Creek section of the Arkansas River as of June 21, 2013.
The Arkansas River is running at ideal flows for Pine Creek, which is the steepest section of the river with a max gradient of 200 feet per mile (fpm), according to Travis Hochard, operations manager, River Runners.
"It's a great time of year to challenge class V whitewater in Colorado," Hochard said. "The Arkansas Headwaters Recreation Area issues a recommended closure for Pine Creek at 1,250 (cfs) and we are running just below 900 (cfs) as of this morning."
This class V Colorado rafting trip starts in Granite Gorge, about 20 miles north of Buena Vista, Colo., and ends with a continuous class IV run through the Numbers after a catered riverside lunch, according to Hochard.
"This is a true class V rafting in Colorado, which means it's not for everyone," Hochard explained. "It requires a full day of continuous paddling and maneuvering."
Participants must have previous class IV rafting experience, be a strong swimmer, at least 18 years old, and be in good physical condition for this class V rafting trip, according to Eileen Peterson, general manager at River Runners.
"This is a high adventure whitewater rafting trip for people who have previous class IV rafting experience in Colorado," Peterson said. "You need at least four people to book, so reservations must be made at least one day in advance."
The Pine Creek section of the Arkansas River is rated class V and has an average gradient of 58 (fpm), with a maximum gradient of 200 (fpm).
River Runners is offering 10 percent off all Arkansas River rafting trips booked by July 1, 2013. Choose from beginner, intermediate and advanced whitewater on half day, full day and overnight rafting trips on the Arkansas River May through Labor Day. Call 800-723-8987 to book.