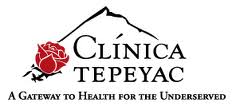 Denver, Colo. (PRWEB) April 02, 2013
Local celebrities and community leaders will demonstrate their dough-rolling skills for a chance to win the coveted Golden Rolling Pin Award at Clínica Tepeyac's annual fundraiser "Tortillas for Tepeyac." The tortilla tussle will take place 11:30 a.m. to 1:30 p.m. on Friday, April 12 at the Western Stock Show Complex, located at 4655 Humboldt Street in Denver.
Clínica Tepeyac is one of Colorado's most respected safety net clinics. The organization is a model for providing health education, prevention, and primary medical services to underserved patients in metro Denver. This year, Clínica Tepeyac is projected to accommodate nearly 16,000 patient visits.
Among those expected to participate in the tortilla masa smackdown include, Aurora Mayor Steve Hogan, Commerce City Mayor Ford, Denver Police Chief Robert White, 9News business reporter Gregg Moss, CBS4 meteorologist Dave Aguilera, CBS4 anchor and radio personality Gloria Neal, Fox News anchor Shaul Turner, President of Metro State University Steve Jordan, CEO of Denver Health Dr. Arthur Gonzales, John Gallagher, vice president of Suncor, and CEO of Stapleton Foundation Beverly Haddon.
"My first job as a kid was making tortillas and I can still make a mean tortilla, just ask my wife," said City of Commerce City Mayor Sean Ford. "I may be competing for the Golden Rolling Pin award, but we all win by supporting Clínica Tepeyac's mission."
In addition to featuring the tortilla-making talents of local celebrities, the event will help raise awareness and funds for the local health clinic. Clínica Tepeyac works closely with other public health agencies and medical providers in the Denver metro area to ensure its patients have access to specialists and programs that assist low-income families.
"The proceeds from this year's Tortilla event will cover the cost of a new ultrasound machine," said Clínica Tepeyac's Executive Director and Founder Jim Garcia. "This particular piece of equipment is critically important, both for our prenatal program and for general diagnostic purposes. Ultimately, it will contribute to our ability to provide the highest quality of care for our patients."
Tickets for the event can be purchased at The Black Tie website and event code Tortillas412.
For more information, contact Yolanda Ortega at 720.274.2920 or Lucille Rivera at 720.274.2929.