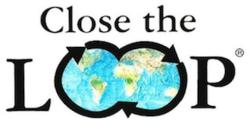 The main goal isn't to make money, it's to make a difference. ~ Rita Lacey
Kunkletown, PA (PRWEB) January 18, 2013
Close the Loop, a US-made recycled products provider since 2000, is proud to reveal that they will become one of the first Benefit Corporations in Pennsylvania on January 22nd, 2013. They support small, progressive, environmentally responsible product manufacturers who create innovative materials, recycled products, and green building materials. As part of their company goals they will transition into being the type of corporation that is intended to create a general benefit for the world around them.
Benefit corporations are required to create a concrete positive impact on society, and must consider how their decisions affect employees, communities, and their environment. This has been one of Close the Loops' ethic practices since its inception, and they are proud to make that title official. By becoming a benefit corporation Close the Loop will never have to worry about losing control of the social or environmental mission of their business.
With a dedication to helping preserve our environment, and a desire to help others who are also committed to this goal, Close the Loop was established in October, 2000 after much research into who has been doing what in the recycled "green" world. They believe in helping environmentally conscious small businesses have a presence on the web, at no cost to them. Products are made in USA from state-of-the-art recycling of plastic scrap and waste wood fiber are used as a non-wood alternative building material for the fencing and plastic lumber market including: recycled plastic fencing, posts, rails, vineyard poles, composite lumber. They also offer glass mulch, rubber mulch, rubber landscape timbers, rubber pavers and more.
The purchases will help make a difference in leaving the world a better place to live. Help Close the Loop continue their Give and Take Days, reducing waste by giving people opportunity to freely give and take useful items instead of landfilling, and holding free classes for the unemployed and underemployed to build their own business websites.
For more information please visit http://www.closetheloop.com, or check them out on Facebook.