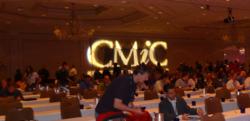 I am looking forward to the impact of the new tools highlighted at the CMiC Connect conference and the potential impact they will have on Power Construction's business and employees
Toronto, ON (PRWEB) December 04, 2012
CMiC, the leading developer of advanced software solutions for construction and project based organizations, has successfully wrapped up CMiC Connect 2012 its 14th annual user group conference and the years' premier gathering of technology experts and decision makers from North America's largest AEC firms. The event was hosted at the Ritz-Carlton in Palm Beach, FL and attendees left the conference buzzing about the new product lineup and set of roll out dates that were announced during the solutions keynote.
During the three day conference, CMiC announced a complete lineup of new products, scheduled for staggered release during the first half of 2013. Notable among the new product releases was CMiC Scheduling 2.0, the first truly embedded construction specific scheduling tool that is fully integrated with project budgeting and costing. CMiC also announced the release of CMiC Electronic Content Management 2.0, a complete suite of digital imaging, document management, document markup and enterprise search tools. CMiC Scheduling 2.0 and CMiC ECM 2.0 are scheduled for release in March and April 2013 respectively.
"I am looking forward to the impact of the new tools highlighted at the CMiC Connect conference and the potential impact they will have on Power Construction's business and employees" said Dave Anderskow, Chief Financial Officer at Power Construction Company, LLC. "Yet again, CMiC Connect was an excellent opportunity for us to network with other general contractors in the CMiC user community, share best practices and learn from one another."
According to Bassem Hamdy, Chief Marketing Officer at CMiC, "CMiC is answering the need for market changing tools, by releasing products that give our clients a competitive advantage. With the help of our clients we are revolutionizing what software can do for construction."
###
About CMiC
CMiC is the leading provider of complete, integrated and advanced enterprise level software solutions for construction and capital projects. For nearly four decades, CMiC has partnered with the largest and most technologically progressive architectural, engineering and construction firms in North America, gaining detailed insight into the unique business needs of the industry. From that experience, CMiC has created CMiC Open Enterprise v10x, the most advanced construction and capital project software solution ever developed. Combining an incredibly flexible technological infrastructure with a philosophy of total integration, CMiC Open Enterprise v10x lowers costs, improves productivity and increases interoperability.