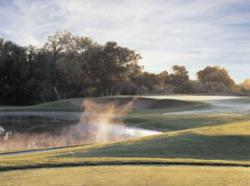 Play free golf now at this premier Colorado golf course.
Louisville, CO (PRWEB) December 12, 2012
With this winter starting off with unseasonably warm temperatures, being a Peak Player cardholder could pay off in no time! Playing just one and a half rounds of golf would cover the cost of initiation which means the more free golf played, the greater the benefits once springtime comes around. The annual initiation fee to join is $109 which includes a complimentary round of golf valued at $44, which may be redeemed at any time. During free golf months, cardholders may choose to ride the golf course for a nominal cart fee starting at just $10. Plus all cardholders earn one point for every $1 spent at the Club on golf, dining and merchandise. With every 500 points earning one free round of golf with cart. Cardholders enjoy 15% off Golf Shop merchandise and 10% off dining at the Club.
"Free golf has been a part of our Peak Players program for several years now and has always been a benefit that our Members have appreciated," says David Clifton, PGA Head Golf Professional at Coal Creek Golf Course, "With this season shaping up to be warmer than most, we anticipate great participation."
After February, members of the Peak Player Club still enjoy generous discounts on their green fees of up to 15% off plus guest benefits and continuing to earn reward points towards additional free rounds of golf. Complete program benefits can be found online or contact the Golf Shop at 303.666.7888.
About Coal Creek Golf Course
Coal Creek Golf Course was designed by renowned architect Dick Phelps and offers special rates for Louisville residents. Among its accolades, the course was voted in the Top 100 Courses for Women in 1999 for Golf for Women Magazine. Coal Creek Golf Course is owned by the City of Louisville. For additional information about Coal Creek Golf Course, visit their web site at coalcreekgolf.com or call 303.666.7888.
About Western Golf Properties
As problem solvers and reputation builders, Western Golf Properties has been at the forefront of golf management through developing and managing top golf facilities nationwide. Working with more than 100 of the country's most elite Clubs, the Corporate team provides great insight into smart business practices and operational efficiencies which result in quality conditioning, exceptional guest service and desired financial goals. For more information, please visit westerngolfproperties.com or call 949.417.3251.