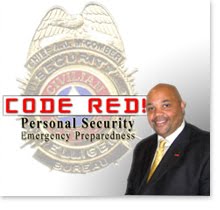 Many small businesses never re-open after a natural or man-made disaster strikes the business. The good news is there are specific steps business owners can take to be better prepared for disasters and emergencies BEFORE they happen!
Arlington, VA (PRWEB) April 26, 2013
During the next live episode of the global Code Red! radio show dedicated to personal security, safety and emergency preparedness issues across America and around the world, host Alfred McComber's interview segments will include tips to help small business owners become much better prepared to deal with natural and man-made disasters as well as an interview segment on exactly how people around the globe can avoid becoming a victim of a deadly carbon monoxide incident.
On the next worldwide broadcast scheduled for Friday, April 26, 2013 from 10:00AM-11:00AM (Eastern), Code Red! guests will include Gerald McSwiggan, Senior Manager, Disaster Management, with the U.S. Chamber of Commerce Business Civic Leadership Center along with Scott Somers, PhD., who is a member of the Phoenix, AZ Fire Department and a Certified Emergency Paramedic for more than 20 years. Mr. Somers is also a member of the American Red Cross Scientific Advisory Council and the Preparedness Sub-Council.
Both gentlemen will stop by the Code Red! radio show to discuss important disaster preparedness tips and strategies for small business owners across the nation.
The interview segment will also feature details about a special breakout presentation being sponsored by the American Red Cross and FedEx entitled, "SMB Prepared: Getting Your Small Business Prepared For Disasters" that will take place during the upcoming U.S. Chamber of Commerce's "America's Small Business Summit" being held next week in Washington, DC.
Later in the broadcast, Rob Aiers will drop by the show all the way from just outside of London, England! Mr. Aiers is an internationally known expert on the issue of deadly carbon monoxide poisoning and he is also the founder of: http://www.CarbonMonoxideKills.com.
Rob is going to share some very important safety tips and life saving information for both civilians and first responders when it comes to dealing with this deadly poison. Rob will also share insights regarding the often untold side of the story when it comes to long term suffering and injuries for those who survive Carbon Monoxide poisoning incidents.
Listeners can tune into the live Code Red! radio broadcast from any internet connected computer device by visiting: http://www.tinyurl.com/CRS-04-26-13. Listeners can also call in to the live show and ask featured guests or the host questions related to the topics being discussed by calling (646) 478-5931.
The Code Red! radio show is hosted by long time high level dignitary protection and veteran law enforcement officer Alfred McComber. The show which has been around since 2004 is specifically dedicated to helping civilians and first responders around the world be better much prepared for all sorts of natural and man-made disasters and critical emergencies.
For more details visit Code Red!'s main website at: http://www.CodeRedRadioShow.com