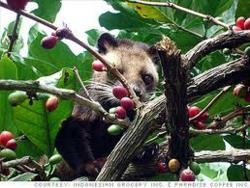 On the world market this coffee sells upwards of $150 per pound roasted. It is sometimes called civet coffee, Kopi Luwak or simply poop coffee.
Warrenville, IL (PRWEB) April 26, 2013
For the first time ever, CoffeeCON 2013 will offer free samples of outrageously priced, shockingly processed and hard to find $150 per pound Kopi Luwak coffee at this year's event on Saturday, May 4 in Warrenville, Illinois.
Kopi Luwak starts its journey to the coffee cup as edible coffee cherries selected for a tasty meal by a civet, a relative of the domestic cat. The civet is naturally finicky and eats only the best. As undigested coffee seeds travel through the animal's intestines they undergo a natural fermentation. The coffee is then separated from the civet's feces, is cleaned and processed using traditional coffee methods, then goes to the world market, fetching prices upwards of $150 per pound roasted. It is sometimes called civet coffee, Kopi Luwak or simply poop coffee. Wealthy connoisseurs claim it has a smoothness and richness unmatched by other beans.
The Indonesian Trade Promotion Group, based in Chicago is exhibiting at this year's CoffeeCON. A limited supply of their best Kopi Luwak coffee will be roasted onsite. Kevin Sinnott, CoffeeCON's creator says he's delighted to be able to serve this coffee free to attendees. "There are lots of myths in the coffee trade", says Sinnott who's appeared on Oprah Winfrey, run tests for ABC-TV's 20/20 and authored the best-selling book The Art and Craft of Coffee. "Kopi Luwak was actually discovered by farmers, not marketing types, so it has some credibility. It is labor intensive, disgusting frankly, and it's genuinely rare so its price is justified. I've had it twice. The first one may have been a counterfeit, but it was mediocre. The second time was extraordinary. The stuff we're getting is authenticated so it should be great. I'll get in line myself. Besides, it's free."
CoffeeCON is a consumer coffee festival featuring the nations top coffee experts, quality roasters to sample, hands-on coffee brewing classes. It is a giant caffeinated meet-up for coffee lovers.
Registration link
http://coffeecon2013.eventbrite.com/