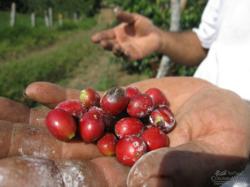 Colombia World Tours offers a vacation from cooking, reading food labels, and from having to constantly explain your diet - you can just relax and have fun
Colombia (PRWEB) October 07, 2011
Young Canadian scientist-turned-entrepreneur, Dr. Vivian Kulaga, CEO of Colombian tour operator company, Colombia World Tours, is putting a long-awaited dream of celiacs, vegans, vegetarians, and people with food allergies, literally on the map and she's doing it in Colombia, South America. Colombia World Tours is announcing the addition of gluten-free, vegan, vegetarian, and personally-tailored, allergen-free meal plan options, available on Colombia World Tours' Adventure Eco-tours.
Dr. Kulaga, or "allergic girl," as she calls herself, has taken her struggle of living and traveling with extensive food allergies and combined it with her love of travel to make "lemons into eco-tourism," as Dr. Kulaga puts it.
"I know how frustrating traveling to a foreign destination with special dietary needs can be. Trying to explain to a well-intentioned waiter - in a foreign language - that even a 'little bit' can be harmful is like trying to convince my 83-year-old Polish grandmother that her favorite sausages are actually not dairy-free," says Vivian.
Typical vacation packages are not geared to travelers with special diets. People with allergies, intolerances, or non-mainstream diets need to maintain constant vigilance when traveling. They often worry about how to plan their next meal or about what they are going to be served in the next restaurant. Vivian, suffering from a multitude of food allergies and intolerances (dairy and soy to include a few), has made it her personal mission to make life easier for those struggling with a similar situation by giving them a break on one of her company's all-inclusive adventure ecotours.
Apart from providing adventure ecotours across the country:
"Colombia World Tours offers a vacation from cooking, reading food labels, and from having to constantly explain your diet - you can just relax and have fun," explains Vivian.
The company ensures the quality of their special meal plans by working closely with a handful of trusted restaurants, and by hiring private cooks/chefs and facilities to personally prepare the special meals where needed. This is often necessary as the tours typically travel from destination to destination every couple of days.
Colombia World Tours' trips travel across Colombia, South America's hottest up-and-coming vacation destination. The tours visit sites as diverse as hot springs, Caribbean beaches, Andean mountain glaciers, bustling cities, and quaint colonial towns. In addition, the tour groups are kept small on purpose, making it easier for the company to manage individual dietary needs and to provide a personal touch.
Colombia World Tours is a tour company passionate about travel, Colombia, the environment, and special food needs. The company is a proud supporter of eco-friendly practices, and the local communities that their tours visit.
# # #