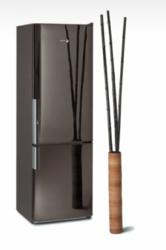 Making it less convenient to eat old food, helps eat healthier, and the best way to do that is to reduce refrigerator storage space.
(PRWEB) September 09, 2012
HomeThangs.com – the Home Improvement Super Store has made their goal to deliver the right product to the consumer, with that in mind, shopping and home design tips, as well as special product selections are being introduced.
Once upon a time, back in ye olden days before refrigeration, people ate differently. Because there were fewer ways of keeping food from spoiling, it was eat fresh or bust. That meant food had to be grown locally and eaten quickly, and often meant making daily purchases from local independent bakers, butchers, and dairy farmers. Ubiquitous refrigeration more or less put an end to that - if one can keep a gallon of milk for a couple weeks and fruits and vegetables, meat, poultry, or fish frozen until the apocalypse. With the motivation of necessity gone, convenience reigns supreme, and it's all too easy to stuff the fridge full of food, forget it, and pull out a Tupperware container of moldy goo a month later. Making it less convenient to eat old food, helps eat healthier, and the best way to do that is to reduce refrigerator storage space.
1. Compact Refrigerators Aren't Just For Apartments
Once the domain of places that simply didn't have the space for a full sized huge refrigerators, compact refrigerators like the 24 Inch Torre Black Refrigerator from Fagor for example, and mini fridges might actually deserve a spot in a home, no matter what the size of the kitchen. While this might seem counter-intuitive (big house, big family, big fridge), it is amazing how easy it is to pile up food nobody is going to eat. A compact refrigerator is a little like a food diary that way - it forces one to look at one's eating habits and figure out what's going to waste and why.
2. Big Refrigerators Are Uniquely American
In many European countries and throughout Asia, smaller refrigerators - even what we would typically refer to as a mini fridge - are fairly standard. This has a lot to do with the relative size of homes, of course, but the effects are much more widespread than simply saving space in the kitchen. The stereotypical French lifestyle, for example, consists of a daily walking trip to several small specialty groceries to procure just enough food to last a day or two. Though the French are notoriously food-loving, they're also famously thin, likely in no small part due to the fact that they eat their food near to the source, and often within a day or less of being picked or prepared. Their more compact refrigerators are at least partly responsible - it's much easier to form good, healthy habits when you have to.
3. Better Refrigerator Design Means Better Food, Too
Of course, eating local and eating fresh isn't always easy. With a very large family, hungry growing teens, or living in a food desert (an area with few or no nearby supermarkets or other sources of fresh, healthy produce), trying to buy food even once a week can be prohibitively difficult, both time consuming and expensive. But getting a smaller refrigerator can actually be helpful in this situation as well. Because refrigerators and freezers both work best when they're full, having one that's 5-10 inches narrower than an average refrigerator, like the Torre Refrigerator from Fagor, is easier to keep full and running efficiently without storing a lot of food one won't eat. Plus, just that little bit less space will make one think twice about what to buy - and what to put in the body.
4. Smart Refrigerator Design Can Trick into Eating Better
It's easier to grab a pre-packaged meal than it is to make one from scratch, or that one is more likely to eat something from the front of the refrigerator than something that's tucked way in the back. With a smaller refrigerator, there are fewer places for the good food to hide. While there's a passable amount of storage space for the day to day and weekly-or-more needs, the interior cubic footage that's trimmed away to make the unit more compact also means there won't be quite so many layers of food obstructing the vision. Maybe more importantly, compact refrigerators typically put the freezer on the bottom rather than the top or in equal proportion as on a side-by-side. That means that the easiest to grab, high-sodium, processed frozen meals aren't at eye level. This might seem a little silly, but simply having to bend down and reach for food will make one less likely to eat it - that little bit of extra effort is often enough to negate the convenience.
5. Smaller Appliances Mean More Room in the Kitchen
Trimming down the size of all kitchen appliances, especially a refrigerator isn't merely a matter of aesthetics. Even small reductions can allow for new, alternative layouts in the kitchen, and scaling back to a mini fridge can help open up the floor plan and turn the kitchen into a more inviting space. Developing a healthy lifestyle is all about small but significant changes - and the size of a refrigerator is one that might not have been considered to make a big difference.
6. They Aren't Only Good For the Body
Many space saving appliances, from compact refrigerators to induction cooktops, trash compactors, or even smaller dishwashers are good for the environment, too. Refrigerators work better when they're full and smaller. And because they're smaller, it requires less energy to keep the space cool in the first place.
Again, small differences, but for those really trying to make a change in the impact of food on their body, and the impact on the earth, it really does pay to examine the things that go most easily overlooked.
HomeThangs.com is not only a home improvement superstore, it also provides expert design tips and a comprehensive shopping guide, taking the ideas from professional interior designers, and offering tips to the consumers on how to pick the products to best suit their needs.