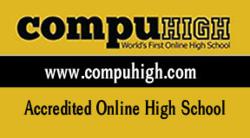 If it sounds too good to be true, it probably is. An education requires hard work.
(PRWEB) April 17, 2013
The market for online high schools has exploded in the past decade. With all the options it can be hard to sort out which might be best for you or your son or daughter. The best choice will depend on a number of personal factors, but it is vital to confidently eliminate the schools that are not legitimate or not accredited.
"Unfortunately, 'diploma mills' can tarnish the reputation of all online schools," laments Jeannette Geib, CompuHigh's Educational Director. "It's so important to us that families know how to avoid diploma mills and non-accredited schools, even if they do not choose CompuHigh. We know that online education can be a blessing to many families. CompuHigh provides high quality, challenging courses. We are accredited by NCA-CASI and SACS. We have talented, caring teachers who have been with us for 10 years or more and who give individualized attention to each student. And that's something that can be hard to get in many 'brick and mortar' schools."
Diploma mills sell people diplomas. These might have an application or a test that gives people a sense of earning something, but basically a piece of paper that says "diploma" is exchanged for a fee. However, even legitimate schools where real learning does take place can lack accreditation. This lack of accreditation can cause major problems for students as they try to further their education or career. Typically employers, career training programs, and colleges only accept transcripts from schools that have recognized accreditation.
"We get calls far too often from people who have done their entire high school at a online place that is not accredited," explains CompuHigh Admissions Specialist Melissa Rollins. "They go to apply to college or a job and find out that their transcript and diploma can't be used anywhere. In many cases, they've thrown away thousands of dollars and years of hard work, and now have to start all over from scratch. It's heartbreaking."
Tip 1: If it sounds too good to be true, it probably is. An education requires hard work. Students must read, complete assignments, answer questions, write essays, and LEARN! Any promise of an easy way to avoid actual learning is fake. Watch out for diplomas granted only on life experience, a resume review, a brief survey or application, or in a very short amount of time. Online education can be accelerated. Students who work hard might be able to finish a single course in a month or so, but not an entire diploma in weeks. Legitimate institutions might grant a small portion of credits based on life experience or work internships, but academic classes will also be required.
Tip 2: Just because a school lists an accreditation, doesn't mean it's a legitimate accrediting body.
Schools can make up an official-sounding accrediting agency, then claim to be accredited by them. An accreditation in the United States is only legitimate if it is recognized by the U.S. Department of Education (USDE) or the Council for Higher Education Accreditation (CHEA). Look at the list of Recognized Accrediting Organizations by the USDE / CHEA. These include regional accreditations such as The North Central Association Commission on Accreditation and School Improvement (NCA CASI), Northwest Accreditation Commission (NWAC), and the Southern Association of Colleges and Schools Council on Accreditation and School Improvement (SACS CASI) which are accreditation divisions of AdvancED.
Tip 3: Watch out for terms such as "registered" "licensed" or "member of." For example, being "registered" by a state, does not mean that a school is accredited. And "membership" in most organizations is simply a matter of paying dues. Real accrediting agencies, however, carefully review the practices of the school. Look for the words "accredited by" followed by a legitimate organization from the USDE list.
Tip 4: If the school lists an accreditation that is recognized by the USDE, go to the organization's website to verify that they list the school and that it has full accreditation status. Often you can search for the school by name.
Tip 5: Make sure you find the exact name of the school in the accreditation database. Variations of an accredited school name can be used by a non-accredited school to confuse people, for example Nationwide vs. National.
Tip 6. If your school loses accreditation, abandon ship ASAP. Unfortunately, a loss of accreditation can make all your credits null, even if you earned them while the school was still accredited.
CompuHigh is an accredited online high school established in 1994. CompuHigh offers both individual courses and flexible diploma programs. CompuHigh's private diploma program high school is called Whitmore School. For more information about CompuHigh, visit http://www.CompuHigh.com or call 1-866-859-0777 to speak with Admissions Specialists Melissa or Kassie.