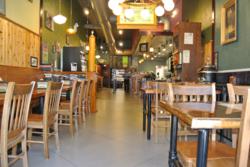 With Duraamen concrete resurfacing products we have achieved success consistently
New York, NY (PRWEB) April 05, 2013
Duraamen Engineered Products gained a new client recently when Potbelly Sandwich Shop, a delicatessen chain expanding its presence in the greater New York City market, turned to the company to help Potbelly create the branded look it desired for its concrete floors.
"Concrete overlay systems can be used to create a brand look that's the same in every store, regardless of the makeup of a particular region's concrete," said Mr. Victor Pachade, General Manager of Duraamen. The New York, NY-based company offers a wide array of colors, finishes and concrete resurfacing products to designers, builders, contractors and property owners.
Pachade said a concrete overlay system has several advantages over polished concrete. Beyond consistency in appearance, it offers a quick turn-around, a real benefit to contractors and business owners alike in this busy spring season when construction and new shop openings are in full swing.
"Our system can be completely installed in five to six days. If you pour fresh concrete, you have to wait 28 days before polishing it," Pachade said. Plus, "Not all concrete can be polished to the desired color and finish store after store."
Potbelly representatives turned to Pachade after they had tried polishing and sealing concrete floors in some new stores in the area and were unhappy with the varying results. An online search turned up a Duraamen concrete overlay system that officials believed would solve the inconsistency problem.
Pachade recommended they begin with a layer of Param 5500, a self-leveling concrete with a calcium aluminate cement base that resists shrinkage cracks, on a floor with a plywood base in a West 14th Street store.
On top of that, he advised applying two coats of Sgraffino, an integrally colored concrete overlay about 1/16 of an inch thick that creates a hand-applied concrete finish. It was a custom-color blend, Pachade said, and "We had to submit several samples to the client before we landed on a concoction of warm grays that produced the color they were looking for."
After drying overnight, the Sgraffino was burnished with a 100-grit sanding machine and sealed. Pachade recommended three coats of sealer: a primer coat of Perdure E32, a water-based epoxy; a coat of Perdure E12, a 100 percent solids UV-stable epoxy; and a final coat of Perdure U45, a water-based polyurethane that produced the matte finish Potbelly wanted. "The floor probably won't show traffic areas for four to five years," he said.
In addition to the store on West 14th Street, Potbelly shops on Park Avenue South in New York and another on Exchange Place in Jersey City feature the Duraamen concrete flooring system.
According to Jennifer Starr, a designer for Potbelly based in Chicago, her company chooses durable products that look a certain way for their stores nationwide. Which products they use for what are determined on a site-by-site case. "It all comes down to cost, timing and a combination of things," she said. "The (Duraamen) products are certainly an option. We have been having consistent success with them."