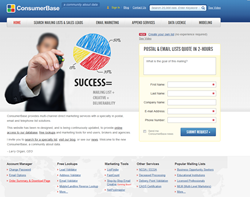 Our automotive industry mailing lists provide direct marketers with quality data for a recovering industry
Evanston, IL (PRWEB) October 08, 2012
ConsumerBase LLC, a multi-channel mailing list provider located in Evanston, IL, if offering recently enhanced automotive industry mailing lists this month. Business-to-business and business-to-consumer data alike are available for this expansive industry covering a wide range of needs from utility, functionality, and hobby.
"Our automotive industry mailing lists provide direct marketers with quality data for a recovering industry," says Larry Organ, CEO of ConsumerBase. "Our reliable and accurate lists ensure our clients are targeting their ideal audience with their campaigns."
ConsumerBase automotive industry mailing lists include but are not limited to:
Automobile Parts Stores
Automobile Consumers
Auto Comparison Site Users
The automotive industry is an integral part of the mechanical and transportation industries. Businesses and consumers alike utilize this form of transportation in multiple facets, such as trucks, motorcycles, recreational vehicles, minivans, and more to fulfill a specific need or want.
ConsumerBase mailing lists contain up-to-date email, telephone, postal, demographic, and firmographic data. Daily list additions to all categories and monthly updates on existing lists ensure that the resulting high data quality gives direct marketers the advantage in a competitive marketplace.
ConsumerBase
ConsumerBase provides multi-channel direct marketing services with a specialty in postal, email, and telephone solutions. Encompassing the entire lifecycle of customer information, ConsumerBase services focus on acquiring and retaining customers, validating, cleaning, and enhancing customer data, and improving the overall performance of marketing communications.
ConsumerBase is an Evanston-based multi-channel mailing list company. The company was founded in 2001 and is based in Evanston, Illinois. ConsumerBase operates as a subsidiary of Organ Worldwide LLC.
Contact:
Kathryn Fallucco, Media Editor
ConsumerBase LLC
http://www.ConsumerBase.com