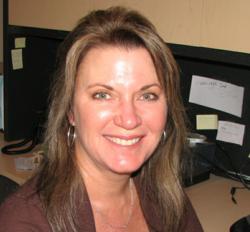 Port St Lucie, FL (PRWEB) May 07, 2013
Treasure Coast Opticians & Hillmoor Optical are proud to announce the addition of Angela Cameron to their Port St. Lucie and Vero Beach offices. Angie is a state of Florida licensed optician with more than 25 years of experience as an eye care professional.
Most recently, Angie was with Driftwood Vision Center in Melbourne Beach, FL. She previously served as the owner/operator of Riverwalk Eye Center in Sebastian, FL. Her additional experience also includes dispensing eyeglasses to pediatric and special needs patients at the Trippensee Opticians & Shands Ophthalmology Department at the University of Florida.
Her two teenage children are very involved in Cross Country Quad Racing all over the Southeast, while Cameron enjoys fishing, hunting and gardening in her spare time.
"We welcome Angie Cameron to our offices," said Dan and Lara Amyx, owners of Treasure Coast Opticians & Hillmoor Optical. "She is very knowledgeable, but also very personable and well rounded. Our patients will find her expertise and welcoming personality a pleasure to work with."
Ms. Cameron pledges to carry on the great tradition of service that Treasure Coast Opticians has built since 1976.
About the company:
Treasure Coast Opticians (Vero Beach) and Hillmoor Optical (Port St. Lucie) are family owned and operated full-service optical shops. With combined optical experience of over 60 years, they are local opticians serving families of Vero Beach and the Port St. Lucie areas with personal care for all their optical needs. They have a large selection of frames including designer eyewear and the latest in high fashion sunglasses that will meet everyone's budget. Their board-certified independent Optometrists and licensed Opticians are in here to help with all vision care whether it is contact lenses, designer glasses, eyeglass frames, prescription eyewear or just a local option for an annual eye exam. For more information visit their website at http://www.myfavoriteoptical.com.