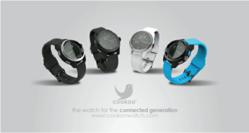 Kenmore, WA (PRWEB) June 25, 2012
ConnecteDevice, the creators of the Cookoo (TM) connected watch, have added several new pledge levels to their Kickstarter crowdfunding page.
Based on demand for the product and requests the company has received, the two new pledge levels for Cookoo include:
$270 - Couples Combo Pack: Backers will receive two (2) Cookoo watches in their choice of colors (excluding the Kickstarter edition) and four (4) Cookoo keychains.
$500 - Friends and Family Combo Pack: Backers will receive five (5) Cookoo watches in their choice of colors (including up to one Kickstarter edition) and five (5) Cookoo keychains.
Backers at these pledge levels will receive their Cookoo watches and keychains together when the watch ships in November.
Anyone who pledges at the Family Pack level or above (including the retailer and distributor levels) may select one Kickstarter Edition watch as one of their watches. This is not reflected in the original pledge levels, which cannot be edited once people have pledged.
New Packages For Distributors And Retailers
For small distributors and larger retailers that want to carry both the Cookoo watch and Cookoo keychain, there is also a new pledge level called the Small Distributor Combo Pack for $3,200). It contains forty (40) Cookoo watches in any color (including ONE Kickstarter edition) and forty (40) Cookoo keychains plus ten (10) posters and three (3) point of sale displays.
The Cookoo Watch Kickstarter campaign will end on July 7. For more information, visit http://bit.ly/KSCookoo.
About ConnecteDevice
ConnecteDevice, with offices in Kenmore, Washington, is a cutting-edge technology and engineering company that has teamed up with world-class manufacturers and design experts to create the Cookoo watch and smart keychain. ConnecteDevice aims to deliver solutions to real-world problems using innovative technology and execution. The Cookoo watch is designed to be an extension of your mobile device using Bluetooth 4.0 capabilities. The engineering, design and capability of the Cookoo watch exemplify ConnecteDevice's attention to detail.
Cookoo is a registered trademark of ConnecteDevice Limited. Bluetooth is a registered trademark of the Bluetooth SIG and is used under license.