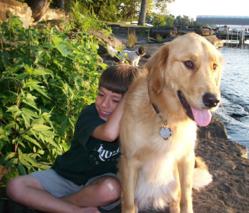 We are proud to bring attention to this important organization and the incredible work it does.
Basking Ridge, NJ (PRWEB) September 27, 2012
Cornerstone Relocation Group, a full service global mobility company, will host Monty, a very special golden retriever assistance dog from North Star Foundation, at the Worldwide ERC's Global Workforce Symposium in Washington D.C., October 3-5, 2012.
A key Cornerstone value is social responsibility and the company has chosen to support North Star Foundation in its efforts to place service dogs with children whose challenges range from autism to serious medical conditions to grief over loss of a parent. North Star also offers a veterans program where dogs provide comfort and companionship to returning military personnel.
"We value our position as a vital member of our local community and the valuable role that it plays within the lives of our employees, their families, and the interwoven fabric of society as a whole. We are proud to bring attention to this important organization and the incredible work it does," said Janelle Piatkowski, president and CEO.
After his appearance in the Cornerstone booth at the Global Workforce Symposium, Monty will be placed with a Virginia family whose four-year-old daughter suffers from a breathing disorder that requires a portable oxygen tank to help her breathe. After acclimating with the family, Monty will be fitted with a special vest to carry the oxygen tank and will be the girl's constant companion, even accompanying her to school.
About Cornerstone
Cornerstone Relocation Group is a full service global mobility company offering comprehensive services to address the workforce mobility needs of corporations worldwide. Since 1990, Cornerstone has analyzed the complexities and nuances of thousands of domestic and international relocation programs, tailoring them to meet client needs and always striving to make the seemingly impossible—possible. Visit http://www.crgglobal.com for more information.
About North Star Foundation
The North Star Foundation is a nonprofit organization, 100% supported by donations, dedicated to helping children who face social, emotional and educational challenges reach their goals with the help of well-bred and well-socialized assistance dogs. Founded in 2000, the North Star Foundation has placed more than 100 assistance dogs in support positions around the country. For more information, please visit http://www.northstardogs.com.