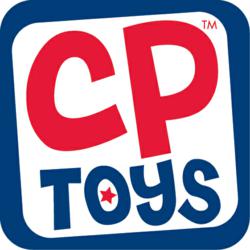 Our goal was to put out products that helped kids embrace the magic of summertime
Grandview, MO (PRWEB) June 20, 2013
CP Toys - It may feel like it has started already, but the official first day of summer is actually tomorrow, June 21. Summer is a great time for family gatherings, swimming pools, and taking a little more time to relax. Also, no school. In alignment with the first day of summer, CP Toys has released a product line that features lots of great toys and activities to do on a hot summer day. US Toy Company co-CEO Jonathan Freiden states, "We know there is something special to kids about the summer season. Our goal was to put out products that helped kids embrace the magic of summertime." Here are just a few of them outlined:
Power Garden Tools - The power is in the play with the leaf blower, weed trimmer, chain saw, and lawn mower. Each is durably made of plastic with realistic action and sound effects. Get out there with mom and dad and have a blast working on the yard and garden.
Bar-B-Que Play Set - Cook up fun with this realistic grill and cooler loaded with bottled "drinks" and "ice cubes". "Light up briquettes" make sizzling sounds while the chicken cooks. Kids can "grill" hot dogs and burgers to place on the four buns complete with condiments.
Classic Fold 'N Ride Trike - This classic red trike is sure to get them moving! Featuring a solid metal frame, heavy duty plastic wheels and a handy carry basket, this trike folds with the push of a button for easy storage. Take this trike on a new journey.
Tools of the Trade - For "little" home improvements and big imaginations. The battery-powered drill, circular saw and grinder/sander all have realistic action and sound effects. A plastic tool belt holds six more hand tools, and of course there are work gloves, goggles, a hard hat, "protective" ear phones and a tape measure to complete the job.
Giant 3 'N 1 Game Set - This super-sized game set is ready to bring big fun. Set up the net to play tennis and badminton using the over-sized rackets, tennis ball and birdie or volleyball with the inflatable ball. Great for backyard fun for the whole family.
Hopefully these products, coupled with some friends and a wonderful imagination, can make for the greatest summer yet.
About CP Toys
CP Toys by Constructive Playthings offers the finest toys to help a child grow by fostering a sense of creativity, discovery and intellectual exploration. Constructive Playthings has been serving the early childhood education market inspiring creativity, learning and family fun for 60 years. CP Toys was officially launched in 2011 to bring the same dedication to high quality educational play-based-learning to the home.