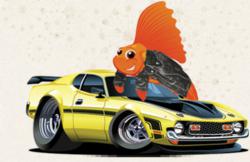 If you're not checking your credit, there's not really another surefire way to detect if somebody else has opened a credit account or taken out a loan in your name.
San Francisco, CA (PRWEB) May 16, 2013
RoadFish.com men's lifestyle and finance magazine today issued their observations about the relevance of credit scores for non-borrowers, in the wake of a question from a Modesto Bee reader inquiring whether or not to worry about his credit if he doesn't owe anything and has no plans to buy a house or car. RoadFish.com's answer mirrored the Modesto Bee's, that credit scores are significant regardless of borrowing status, and RoadFish.com lent some additional food for thought to the argument.
Claudia Buck of the Modesto Bee recently reported that the question was posed from a reader who was not planning on borrowing money or moving, what the significance of maintaining a decent credit score would be. Buck reported that there are some instances where good credit is necessary that fall under most people's radar, such as when applying for a student loan—if not for self, then for kids or even grandkids—getting a job, and even renting an apartment. All of these instances require a credit score check, and approval hinges on a decent score.
RoadFish.com points out that having a good credit score lends peace of mind to the owner, something that money simply cannot buy. RoadFish.com's Senior staff writer is quoted as saying, "It can take years and years to shape a good credit score, so why would you let it waste away because you don't see an immediate use for it in your present? People work diligently to get a decent score, and many consumers are denied things like loans or even employment because of bad scores. Credit ratings always matter. In some countries, there is much less of an emphasis on them, in fact some countries don't use them at all. But in America, your credit score serves as a number telling others how responsible you are with finances. Having a good score ensures peace of mind so that when the situation pops up where you suddenly need it, it's there. I would tell consumers never to assume that they will never need their credit checked again, regardless of age, social circumstance, or how much money you have in savings."
In the above-mentioned Modesto Bee article, Buck reminds consumers that there is a difference between a credit score and a credit report, and that maintaining the two are linked but also quite separate. She reminds users to check their free credit score once each year, as allowed by each of the major credit bureaus, and to keep tabs on the accounts listed on their credit report to make sure they are no errors or other inaccuracies. Buck writes that consumer credit scores are linked to credit reports, which reveal the history of credit card use, loans, and other bill-paying accounts.
RoadFish.com encourages readers to check their credit reports, not only to make sure all information is accurate as that has a direct effect on credit score, but also to ward off any possibility of identity theft. RoadFish.com's Senior staff writer is quoted as saying, "Even if you believe that you have no current use for a credit score, it's mighty important to keep tabs on your credit report to make sure you are not being scammed by an identity thief. Oftentimes, the first indication that somebody has been the victim of identity theft is by them identifying a false account on their credit report. Well, you need to be checking your credit report in order to catch these things and rectify them. If you're not checking your credit, there's not really another surefire way to detect if somebody else has opened a credit account or taken out a loan in your name."
Buck states that every year, consumers hope for certain things to go down and others to go up—she writes that weight going down and credit scores going up would be the ideal scenario.
About RoadFish.com
RoadFish.com is an online men's lifestyle and finance magazine designed for modestly successful men in their 30's and 40's who continue to enjoy setting and meeting new challenges for themselves. RoadFish.com commonly features articles about hot chicks, real estate investment strategies, and luxury items for men. RoadFish.com also gives financial advice on everything from budgets to credit reports to how to make rent count towards a credit report. RoadFish.com is owned and operated by Purpose, Inc.