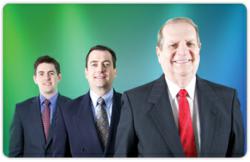 Empower Your Life
Portland, OR (PRWEB) May 07, 2013
PixelGigs has launched its main CRM product Impact Office, and has gotten the attention of local business owners, advertising agencies, and marketing companies.
While looking for the ideal product or service at multiple trade shows, these men were unable to find the right one. They knew the direct sales industry was missing the ONE product or service that could change it forever. Through much reflection, research, and the innovation of trial and feedback, PixelGigs, Inc. was born.
The family inspired direct sales business was founded in 2009 in Portland, Oregon by the Root Family (pictured above from front to back: Jack Root, Ashton Root, and Taylor Root.) The family's diverse background and broad business experience are supported by a history of success. The three generations of family are perfectly suited to lead the company with great passion and leadership.
The owners pride themselves in filling important roles within the company, with top notch talent. Together the team works diligently to not only create an excellent service, but also a premier opportunity for personal growth and development. With the goal to help people change their lives and to help businesses stay open, the philosophy at PixelGigs, Inc. is to "Empower Your Life."
PixelGigs will be releasing another line of products and services soon, known to be state of the art local business marketing services that are in compliance with 2013 search engine updates, and prices will accommodate the average local business's budget.
More information can be found at PixelGigs.
Questions about Impact Office can be asked by calling (503) 244-7800.