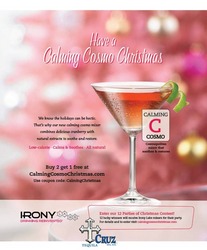 These cocktails are confirmation that healthy can taste good
Scottsdale, AZ (PRWEB) December 1, 2010
For the hosts and strategic party goers who enjoy cocktails that taste great but are searching for natural, lower calorie options, the team at CRUZ Tequila and Irony Labs present delicious solutions: the Calming Cosmo™, Recovery Rita™, and Mighty Mojito™. "These cocktails are confirmation that healthy can taste good," remarks Pep Katcher, President of CRUZ Tequila. "Pairing our award-winning spirits with the world's first all-natural, stevia-sweetened cocktail mixers from Irony Labs, has been incredibly successful."
If the three solutions appear to be sippers because they are each 110-calorie* treats; guess again. "We worked with a team of nutrition scientists, dieticians, and beverage experts to create a line of mixers that are designed for everyone from the serious athletes to responsible cocktail lovers of all kinds," states Chris Richter, Irony Labs Founder. "Our extensive efforts are focused on delivering a quality product and we expect our partners to be as serious as CRUZ Tequila has been in the production of their 100 percent pure blue agave spirits."
"With office parties, family gatherings, dinner with friends, New Year's Eve bashes - the holidays can be filled with temptations," adds Todd Nelson, Vice President of CRUZ Tequila. "Our responsible cocktail survival tactics include: arriving with a designated driver or equivalent; sticking to 110-calorie drink options (e.g., Try a Cruz Calming Cosmo*, made with 3 oz. Irony Labs Calming Cosmo™ mixer, 1 ½ oz. Cruz Silver Tequila, and squeeze of fresh lime. Shake with ice for a 110-calorie functional treat that includes 80% Daily Value of Vitamins B5, B6, B12, plus Vitamin C); and last but not least, please avoid going to a party hungry by grabbing a healthy snack in advance."
About Irony Labs
Irony Labs, based in Austin, TX, has brought to market a brand new category of cocktail mixer. Functional Mixers were designed to empower active lifestyle adults and avid amateur athletes to achieve true balance in their life, the ability to enjoy a rigorous fitness schedule, maintain a healthy diet and lifestyle, but also be able to enjoy cocktails that not only taste great but are great; or "Unwind…don't undo". Our Recovery Rita, Mighty Mojito and Calming Cosmo are specially formulated to act as a post workout, total wellness, or calming/soothing cocktail and as the world's first all-natural, stevia-sweetened cocktail mixers are ultra low calorie. In summary, Irony Labs is officially kicking off the healthier drinking movement. For more information about their efforts, please visit the company website at: http://www.ironylabs.com
About CRUZ Tequila
CRUZ del Sol Tequila is the award-winning brand of Los Diablos International which is headquartered in Scottsdale, Arizona. The recognized principals of the company have a combined 56 years of global business experience that is focused on redefining the ultra premium tequila market. Most recently, the company has captured their 9th International award which includes the gold medal in the San Francisco World Spirit Competition, received a national product packaging recognition, mobile marketing award, showcased in 'Kingdom' for iPhone, and has been featured on FOX Business News, ABC 15, and appeared in Austin 360, BizAZ, Business Gazette, JAVA, Jeunes Restaurateurs d'Europe, Phoenix Business Journal, Phoenix Magazine, The Republic newspapers, Scottsdale Magazine, State Press, and Wine & Spirits Daily along with other leading industry publications. In addition, CRUZ continues to takes an active role in contributing to quality non-profit organizations and donated to more than 35 charitable organizations across the nation in 2009 & 2010. As part of their commitment to give back to their community, CRUZ was proud to be a part of the Emerging Business Program for the Super Bowl host committee in Arizona. Globally, the company proudly donates seven percent of its profits to various national and international charities and strongly supports sustainability by using only eco-friendly recycled materials in its product packaging.
To learn more about CRUZ Tequila, their national launch, and quest to redefine the ultra premium tequila market with their innovative spirit, please visit their website: http://www.cruztequila.com
CONTACT INFORMATION:
Todd Nelson, Vice President
CRUZ Tequila
V: 480.458.7487
Website: http://www.cruztequila.com
Kelly Isley, Partner
Corcoran Associates
Business Advisors & Public Relations
V: 480.814.7471
Website: http://www.corcoranassoc.biz
###