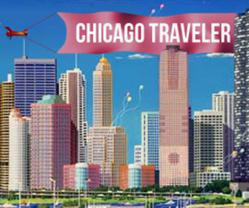 Chicago, Illinois (PRWEB) April 02, 2013
It's that time of year again Chicago Travelers. Baseball season has begun, and while adults all over are excited to experience America's favorite pastime for another season, many are equally excited to take their kids to their first, or another, baseball game in Chicago. There's no better place for a child to experience their first major league sport, so a trip to Chicago this spring or summer is a must! Luckily, there are tons of other great things to do in Chicago with kids, so when families are not out at Wrigley Field cheering on the Chicago Cubs, treat them to many of the other top Chicago attractions this time of year, including delicious food, sightseeing, an afternoon of animals and more. ChicagoTraveler.com has announced all the best things to do with kids after a Cubs game this season!
Best Family Friendly Activities in Chicago
The famous Lincoln Park Zoo is less than 10 minutes from Wrigley Field, so before a Cubs game starts one afternoon or evening, take the kids to this free zoo in Chicago for a chance to see some of their favorite animals. There are tons of things to do in Lincoln Park though, including great restaurants the whole family will enjoy, famous comedy clubs like the Second City for older families looking for entertainment, access to some of Chicago's famous beaches and more! The whole family can find things to do before and after a Cubs game in this popular Chicago neighborhood.
For some family fun after a Cubs game, head to the Briar Street Theatre and catch the Blue Man Group one night. This is just one of the family friendly shows in Chicago, but the theatre is less than 5 minutes from Wrigley Field, and there are usually several shows playing each day, so every family can find something that works with their schedule.
Take a Tour of Chicago
Many families enjoy taking a tour of Wrigley Field, which are actually available year round. Discover the history and legends behind the Wrigley Field Ivy, the unique scoreboard and more in this famous park. Baseball fans love these 75 to 90-minute tours, but everyone else in the family will enjoy walking around the dugouts, clubhouse, bleachers, luxury suites, hand-operated scoreboard and field on non-game days. On game days, the tours venture to the seating bowl, bleachers, indoor batting cage and the field. While the game day tours don't visit every part of Wrigley Field, fans do get to experience all the excitement that builds on game days at Wrigley, making this an exciting experience like no other! Stories and the stadium's history keeps all entertained.
If a baseball game is all the baseball the family can take, there are tons of other great non-baseball tours of Chicago that everyone in the family will love! Head over to Navy Pier for one of Chicago's famous and breathtaking boat tours of Chicago and experience the sights in a unique and exciting way. Many kids love the thrill of a Seadog Speedboat Tour. Or stick to land with one of the biking tours of Chicago. Bobby's Bike tours come in a variety of choices. Choose one of the eating tours and bike from restaurant to restaurant sampling Chicago's most delicious food, or just enjoy a day biking around and sightseeing in the most beautiful parts of Chicago.
Kid-Friendly Restaurants near Wrigley Field
There are tons of great places to eat in and around Wrigley Field. Those looking for the Chicago experience who feel like a slice of pizza is a must will enjoy a meal at Big G's Pizza or Dimo's Pizza. Big G's is creative and innovative to say the least, but they have all the traditional pizzas that kids love too. They even have brunch pizzas now for those looking for a meal before the game one weekend. Dimo's Pizza is another local favorite, and they rotate the different types of slices, so every time you go you get something new and delicious. Both places are famous for their delicious mac and cheese pizza that Chicago travelers should not miss out on.
To still have plenty of time for the rest of the best restaurants in Chicago, check out a food tour of Chicago. On these tours, spend the afternoon walking or biking around Chicago to some of the most famous restaurants, sampling delicious food from each one. Stick to the pizza tours and sample 5 - 8 slices of pizza from several of Chicago's most famous pizzerias, or diversify with all sorts of famous Chicago dishes. Pizza tours are family friendly and provide one of the best ways to try a lot of different Chicago foods in a short amount of time, for one price!
Many families will head to Chicago this baseball season with one goal: seeing the Cubs play at Wrigley Field. There are tons of things to do near Wrigley Field before and after the game though, so don't just come for a few hours of entertainment and fun. Spend the whole time exploring some of Chicago's top attractions and uncovering all of the hidden gems in between. There are so many great things to do in Chicago with the whole family, and plenty of Chicago deals on hotels, tours, attractions and restaurants to make doing even more possible.
About ChicagoTraveler.com:
Chicago is one of the top vacation destinations in America famous for their annual events, popular foods, architecture and top sports teams. ChicagoTraveler.com guides travelers to all the best things to do, top places to eat and deals on the best places in Chicago to stay. This article was written by Lizz Riggs, editor of ChicagoTraveler.com.