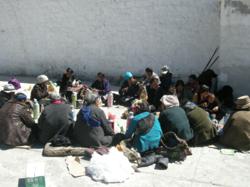 Tibetan culture and history is among the World's most fascinating. Welcome to have Tibetan Cultural Odyssey with local agency!
(PRWEB) April 21, 2013
Tibet Lhasa travel agency, Tibet Ctrip Travel Service-TCTS (http://www.tibetctrip.com), has been working to expand its selection of Tibetan culture tours. Whether touring Tibet's world famous cultural and historical sites or spending some free time exploring places like Lhasa or Shigatse, travelers will have opportunities to see every day life and enjoy insights into how Tibet's history has shaped its modern culture. TCTS employs experienced native Tibetan guides that have extensive knowledge of Tibet and are always more than happy to answer questions. Some of the latest additions to TCTS's Tibet Culture tour selection include:
Lhasa Culture Tour: This 4-day tour of Lhasa, and the surrounding area, is perfect for travelers on a tight schedule. Once travelers arrive in Lhasa, they will have time to rest and acclimatize to the altitude. Over the next two days the travel group's native Tibetan guide will accompany them to must see Tibet attractions like Potala Palace and Jokhang Temple; these are places not to be missed! After, travelers will have time to explore Barkhor Bazaar. On the second day travelers have a number of options for sightseeing in and around Lhasa; many choose to visit Sera and Drepung Monasteries while others may choose to visit Norbulingka, summer palace of the Dalai Lama. On the final day of the tour, travelers have free time to explore Lhasa before heading to the airport.
Classic Tibet Tour: Over 8 days, travelers will visit many of Tibet's most important cultural sites while taking time to enjoy the fantastic scenery. The tour begins in Lhasa where travel groups will spend time sightseeing and acclimatizing to the altitude. Next, travelers will enjoy spectacular scenery on the day trip to Lake Namtso, a shining-blue saltwater lake that sits at an altitude of 4,718 m. For centuries its cave hermitages have been a destination for Tibetan pilgrims. After, travelers will make an overnight trip to Shigatse (Tibet's second largest city). Here travelers will visit Tashilhunpo Monastery and the Tibetan market. En route, the tour stops at Lake Yamdrok and in Gyantse to see the intricate artwork of Kumbum Pagoda and learn about Tibetan Buddhism at Pelkhor Monastery.
Tibet Culture Odyssey: On this 5-day tour, travelers will have many opportunities to learn about Tibetan History. The tour begins in Lhasa and includes a visit to Potala Palace, Jokhang Temple, and Sera Monastery. Travelers will also have free time to explore Barkhor Bazaar and shop for souvenirs. After touring Lhasa, the tour heads for Yarlung Valley, cradle of Tibetan Civilization with a stop at Lake Yamdrok along the way. Travelers will see the city of Tsetang (Tibet's first capital), tour Yumbulagang Palace (the first palace built in Tibet), and visit Samye Monastery.
These Tibet tours are great for travelers who enjoy learning about culture and history. TCTS's native Tibetan guide's extensive knowledge of Tibet's history and culture will help travelers take away valuable understanding that they can share with friends and family in their home country. A native Tibetan guide helps provide an authentic perspective so travelers are encouraged to ask questions! Late spring through early autumn is the best time to set out on a Tibet culture tour; travelers are advised to start planning their tour now!
Devin Moore provided this news release above on behalf of local Tibet tour agency TCTS (tibetctrip.com). Devin is a travel writer and independent economic analyst based in Springfield, Missouri USA. His economic research is currently focused on airfare pricing. Devin Moore works to spread awareness of Tibet and its people through publishing Tibet travel information.