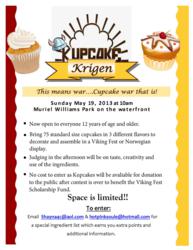 Poulsbo, WA (PRWEB) May 11, 2013
Viking Fest has declared war with their latest addition to the Viking Fest lineup. Kupcake Krigen, which means cupcake war, will feature the best that bakers have to offer. The cupcake war will be held on Sunday, May 19th at 10:00 a.m. in Muriel Williams Park.
Participants must be 12 years or older and will bring 75 standard size cupcakes in 3 different flavors that they will decorate and assemble in a Viking Fest or Norwegian display. The judging, which will be held in the afternoon, will be based on taste, creativity, and use of the ingredients.
After the contest the cupcakes will be available to the public for donations to the Viking Fest Scholarship Fund. Space is limited and entrants must register via email to: shayna4(at)aol(dot)com or hotpinksoule(at)hotmail(dot)com. Entrants can request the special ingredient list which will earn the entrant extra points if they are used in the cupcakes.
If baking isn't your thing try the Message in a Bottle Race. Another new addition to Viking Fest will take place on Sunday, May 19th at 2:00 pm; the race should look familiar as it is based on the yellow duck race that is popular at Silverdale's Whaling Days.Tickets are on sale at a number of Poulsbo businesses at $5 each or five tickets for $20 until 16 May. They will also be available throughout Viking Fest at the Information Booth. First Prize will be $1,000, Second Prize $500; and Third Prize $250, Fourth Prize will be the free use of a 10' x 10' storage unit at Pro-Guard Self Storage on Little Valley Road in Poulsbo for 3 months, Fifth Prize is the free use of a 5' x 5' storage unit, also for 3 months, and Sixth Prize is a Hanging Flower Basket.
The tickets will be placed in plastic Sports Bottles bearing a Viking logo. The bottles will float down a course defined by parallel rows of floats, extending north from the Port of Poulsbo's Dinghy Dock alongside Waterfront Park. At the north end of the race course a V-shaped trap will collect the bottles, funneling them to the finish chute so that the winners can be determined. Additional merchandise prizes will be announced at a later date.
A limited number of tickets will be sold to ensure there is a reasonable chance of winning. Winners do not have to be present to win. Five-hundred extra bottles have been procured so that those who wish to purchase a bottle to take home as an attractive Viking Fest souvenir will be able to do so for $4 each. The bottles will be sold during Viking Fest at the Information Booth.
The Poulsbo merchants selling the tickets are: Bluewater Artworks Gallery, Envy Bar & Grill, Liberty Bay Books, Poulsbo Red Apple, 1st Security Bank, Liberty Bay Auto, The Dance Within, and The Greater Poulsbo Chamber of Commerce. Additional businesses are expected to begin selling them as well.
PR and Marketing Provided by:
The RockFish Group, llc.
Contact: Kelle Kitchel - Cooper, Director of Development
Marketing | Development | PR | Sales | Consulting Group
T 360.774.0431 F 360.343.0128 E: kelle(at)rockfishgroup(dot)com