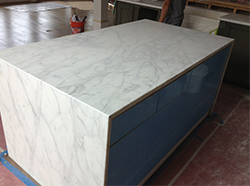 Panama City Beach, FL (PRWEB) April 02, 2013
Forecasts for kitchen and bath design trends in 2013 show marble to be one of the hottest trends this year. With that in mind, Emerald Coast Fabrication will be following this trend by offering a large supply of marble tops to choose from.
Emerald Coast Fabrication's countertop experts say that marble is the material of choice for today's designers and architects. The trend they are seeing is an increasing number of kitchens with white marbles. This ranges from moderately priced Carrara White to the incredibly beautiful, but pricy, Calcutta Gold custom countertop.
Emerald Coast Fabrication is also excited to introduce new marbles from Africa. These brand new quarries are producing a reasonably priced white marble that has the look of a much more expensive stone. Emerald Coast Fabrication invites customers to come by and take a look at the popular new countertops they have in stock.
Emerald Coast Fabrication is also pleased to announce the addition of a sealer that provides a 15-year warranty against staining on marble. Even with the warranty, their experts stress that these marble countertops must be used with care. Scratching and etching can occur if the marble countertops aren't cared for properly.
Emerald Coast Fabrication's Panama City Beach location is stocked with marble, quartz and granite countertops, as well as custom cabinet s. Contact Emerald Coast Fabrication at 850-235-0003 or visit http://www.emeraldcoastfabrication.com.
About the company:
Emerald Coast Fabrication was founded by Jim and Wendy Tatanish in 1994. Their mission since day one was to provide the highest quality all-wood custom cabinets, as well as quartz, marble and granite countertops imaginable to Florida Panhandle builders and home owners. Upon arriving in Bay County from Charlotte, North Carolina, where they co-owned and operated a similar business, Jim and Wendy opened up their original shop on 23rd Street in Panama City. The company has grown consistently through the years. Adding an impressive state-of-the-art facility and key employees every step along the way, Emerald Coast Fabrication has attained their early goals. Today, Emerald Coast Fabrication is the premier provider of granite, marble, and quartz countertops in the Florida Panhandle. Their new state of the art facility on the west end of Panama City Beach spans 25,000 square feet and Emerald Coast Fabrication now proudly employs 27 skilled employees – many are 10 year veterans at the company.