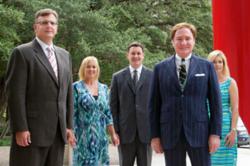 DALLAS, TEXAS (PRWEB) December 03, 2012
The Law Office of W.T. Johnson has donated money and online publicity to the United Way of Metropolitan Dallas for the month of November as part of its initiative to make Dallas an even better place to live.
The car accident attorneys in Dallas plan to donate money to the United Way of Metropolitan Dallas each month for a year in order to help the nonprofit in its mission to improve the quality of life for people living in Dallas.
The United Way of Metropolitan Dallas is currently working toward its United 2020 goal, which aims to prepare upwards of 60 percent of high school graduates to succeed in education after high school, move 250,000 more individuals out of poverty permanently and improve health and quality of life across the metroplex area.
"When we were choosing which charities we wanted to support this year, the United Way was one of the ones that seemed most in line with our goals for the area," said David Crowe, an attorney on the W.T. Johnson team. "The organization's work on education, income and health seems to be an important initiative in making Dallas a more prosperous city for our children and grandchildren."
The Law Office of W.T. Johnson is making donations to four other local nonprofits as part of its community impact initiative: the Dallas Arboretum and Botanical Garden, the Cancer Support Community of North Texas, Operation Kindness and the Ronald McDonald House. Through these donations, the attorneys hope to set an example of caring about the community for other businesses to follow.
About the Law Office of W.T. Johnson
The Law Office of W.T. Johnson is a team of personal injury and consumer attorneys in Dallas, Texas. The attorneys on the team have recovered more than $50 million for clients and have more than 25 years of experience representing clients in cases involving nursing homes, car accidents and product liability, among others.
###