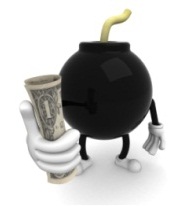 Banks are like any other business and need to generate a profit. Often, what appears to be a too-good-to-be-true opportunity generally is, and consumers always end up paying in one way or another.
EL SEGUNDO, CA (PRWEB) December 28, 2012
Saving money is supposed to be simple; depositors keep their funds safely tucked away in a bank, and possibly earn decent interest on the balance. Yet time and again, consumers fall for financial products that may actually lose them money instead of build it. Go Banking Rates has investigated the numerous financial products and services currently available to consumers that are found to be detrimental to savings efforts, and identifies the top five most dangerous banking products to be avoided in its recent report.
Go Banking Rates managing editor, Casey Bond, says that "It's important to investigate the full terms and conditions of a banking product before locking in your hard-earned money." She warns, "Banks are like any other business and need to generate a profit. Often, what appears to be a too-good-to-be-true opportunity generally is, and consumers always end up paying in one way or another."
Most Dangerous Banking Products
1. The 10-Year CD
Certificates of deposit can be a beneficial deposit tool for earning higher interest rates than a conventional savings account can offer. However, there is such a thing as taking "long-term CD" just a bit too seriously, especially with a 10-year CD.
Paul Sisolak, columnist for Go Banking Rates and lead reporter in the investigation explains, "In 10 years, CD rates may be double, but there's no way to "refinance" or take advantage of new rates. A consumer who chooses to close an account will be penalized with significant fees that eat up any interest earned. Combined with inflation, what a CD account was worth in 2012 or 2013 could be valued significantly less in 2020."
2. Bank incentives, new cars and other gimmicks.
"Banks are businesses like any other, with bottom lines and overheads to consider. So, automobiles and other non-cash prizes are used to woo new customers, who don't realize that an expensive gift isn't worth as much in the long run as their interest rates will be in time," Sisolak contends.
3. Prepaid debit cards
FOX Business recently cited a Consumer Reports study which found that most prepaid debit cards are overloaded with fees, fees and more fees: "Activation fees, monthly fees, POS transaction fees, cash-withdrawal fees, balance-inquiry fees, fees to receive a paper statement or call customer service, bill-pay fees, inactivity fees, and overdraft or 'shortage' fees." If that's not enough, it's also been reported that prepaid debit cards offer little in the way of consumer protection, especially if a card is misplaced or stolen.
To view the full report, please click here.
By avoiding these deceitfully harmful banking products, and sticking with tried-and-true financial tools like savings, checking, and loans from trusted banks and credit unions, consumers can protect their savings and avoid losing money to hidden fees, lost interest, and inflation.
About Go Banking Rates
http://www.GoBankingRates.com is a national website dedicated to connecting readers with the best interest rates on financial services nationwide, as well as informative personal finance content, news and tools. Go Banking Rates collects interest rate information from more than 4,000 U.S. banks and credit unions, making it the only online rates aggregator with the ability to provide the most comprehensive and authentic local interest rate information.
Additionally, GoBankingRates.com partners with a number of major media outlets such as Business Insider and US News & World Report to provide compelling and edifying personal finance content, and its expert editors have been featured and quoted on several premier finance websites like Yahoo! Finance, Forbes, The Street, Huffington Post and more.
GoBankingRates.com belongs to a network of more than 1500 finance websites, including GoInsuranceRates.com and GoFreeCredit.com. These sites receive more than 2 million visits each month.
For questions or comments, please contact:
Jaime Catmull, Director of Public Relations
GoBankingRates.com
JaimeC(@)GoBankingRates(dot)com
310.297.9233 x261
###