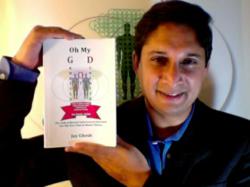 You come from the infinite and are here to serve and receive service from others in the spirit of collective coexistence and in the process experience unbounded delight in life. This book reminds you what is already embedded in your DNA.
Carlsbad, CA (PRWEB) December 19, 2012
ICREATE Technologies LLC is launching a new series of books and coaching programs on December 21, 2012 to address the Human Consciousness, New Age - New Thought market under the trademark "Genetics Of Divinity(TM)". This series of books and programs, developed through a decade of research, disclose never before revealed information about Existence, Creation and how they affect the quality of human life. This information identifies the root cause of all conflict, violence and crime ever committed in human history and provides direction on how they may be resolved organically without deliberate enforcement.
"The Code of Eternal Consciousness that I refer to as the Genetics Of Divinity, is already embedded in the human DNA and is part of our subconscious mind," said Joy Ghosh, the author of the first book in the series - Oh My Genetics Of Divinity. "According to this Code, we are here to establish symbiotic collaborative relationships through the free will of mutual consent between the relating partners for the purpose of collective coexistence and in the process, collectively enjoy a life experience filled with delight. The precise mechanism of how such a delightful life experience can be enjoyed by the individual is implanted in this Code. However this Code lays dormant, shrouded by the artificial man-made paradigms of lack, scarcity, deprivation and violation of free will that has changed our natural genetics. Consequently it is unable to function, resulting in the plight that humanity faces today. Once this Code is reactivated from the subconscious mind and allowed to operate, it will guide the individual through events, circumstances and relationships towards a life experience of delight and fulfillment."
ICREATE Technologies has performed extensive research on this market segment and on the self-development and personal growth industry that revolves around the Law of Attraction and has found nothing that compares to the quality and authenticity of information contained in this 460+ page book which has been receiving 5 Star reviews already at Amazon during its pre-release.
This book launches officially on December 21, 2012 at 11:00 hours Pacific Standard Time in Amazon.com. Those purchasing the book between 11:00 am and 12:00 pm on December 21, 2012 on Amazon.com would be eligible for additional benefits that are described in the official website.
About ICREATE Technologies, LLC
ICREATE Technologies, LLC has been created to fill the void in the Human Consciousness Market with the mission of empowering the common person with the knowledge that they are designed to a enjoy a delightful life experience of love, peace, harmony, health and abundance through the respect of free will of others for the purpose of collective coexistence. The core objective is to provide a logical and scientifically sound platform for the common person to understand the Laws of Creation and Existence and how to apply them consistently for a delightful life experience. For more details about ICREATE Technologies, the Genetics Of Divinity, visit online at http://www.geneticsofdivinity.com. Follow the Genetics Of Divinity revolution at http://facebook.com/geneticsofdivinity or at http://twitter.com/divinegenes or call 760-670-3320.