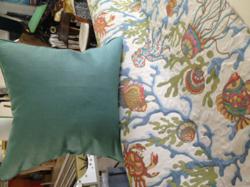 San Mateo, CA (PRWEB) May 01, 2013
In the thick of the new home building, remodeling and redecorating season, having the greatest number of options when choosing upholstery fabrics and drapery fabrics is exactly what Norman S. Bernie Co. strives for, and as they have successfully done for nearly 57 years in the San Francisco Bay Area, with the finest decorative fabric inventory in Northern California.
New upholstery fabric arrivals include an incredibly popular novelty, "Crab Walk: Aqua", on which sealife including seahorses, octopus, fish, shells, coral...and crabs abound, from Swavelle/Mill Creek Fabrics, the same respected mill that weaves "Crazy ol' Bird: Midnight" and "Monkeying Around:Autumn", both in stock at Norman Bernie Co.; "Southgate: Garden", the beautiful coordinate to "Jardin:Garden", from Golding Fabrics also now both in stock; "Paxton:Spice", a beautiful flat-woven jacquard, perfect as an upholstery fabric or drapery fabric, and a lush velvet arriving within days with which to coordinate, "Belgium: Burnt Orange".
In addition, Norman S. Bernie has 14"x20" rectangular 95% feather, 5% down pillow forms in addition to it's in-stock inventory of feather/down pillow forms from 16"x16" to 27"x27". And for customers looking for a downproof fabric, Norman Bernie now stocks 62" 100% cotton downproof sheeting in natural and white, and having recently arrived for stock: 90" 100% cotton sheeting in natural, and at discounted prices.
'Tis the season to redecorate, and there is no better place to find the greatest and most beautiful selection of upholstery fabrics, drapery fabrics, outdoor fabrics, decorative throw pillow forms and more, and at discounted prices, than at Norman S. Bernie Co., where customers will be greeted by the most professional and courteous staff in the industry.