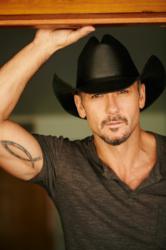 Memphis, TN (PRWEB) May 07, 2013
Event organizers for the First Annual Delta Country Jam Music Festival held a press conference today (May 7,) at the Peabody Hotel in Memphis, TN, announcing megastar Tim McGraw to headline the two-day music extravaganza that will take place in Tunica, MS, October 4-5 on the Abbay & Leatherman Plantation. Tickets will go on sale May 17 through Ticketmaster.
Country music will once again roll across the Delta on the Abbay & Leatherman Plantation for one of the largest, most anticipated and exciting country music festivals of 2013. Fans of country music will experience non-stop entertainment by today's brightest stars on a 20-acre field. Webster Franklin, President & CEO of Tunica Convention and Visitors Bureau spoke at the press conference about the rich history the Delta holds when it comes to music, noting how Tunica, MS has grown over the past 20 years from a sleepy town to a premiere entertainment destination. Franklin explained, "From the large show room venues to the numerous casino stage bars, Tunica is now known as a great music destination having many of today's musical legends from a Beatle and rock 'roll icon Ringo Starr to Mississippi's own and King of the Blues BB King perform here. But, most popular of all music genre's is country music and Tunica has been a main stay in hosting both the up and coming young country artists and the most popular of country stars."
Franklin added, "One of the missing elements of our music product has been our destinations ability to showcase several acts in a festival like atmosphere. That's why all of us in Tunica are excited about today's announcement of the Delta Country Jam Music Festival. Mississippi is the Birthplace of America's Music - the Blues and home to the Father of Country music Jimmy Rogers. There is no place better suited to honor our musical heritage by hosting a country music festival of this magnitude than right here in Tunica!"
Announced by KIX 106's Duane Shannon and Abby Summers was award winning country megastar Tim McGraw to headline the first ever Delta Country Jam Music Festival. McGraw, whose hits include "Live Like You Were Dying," "Everywhere" and "Real Good Man," has sold more than 40 million records worldwide and dominated the charts with 33 no. 1 singles. He's won three Grammy Awards, 14 Academy of Country Music Awards, 12Country Music Association Awards, 10 American Music Awards, three People's Choice Awards and numerous other honors. With 7.8 million spins at radio, McGraw was deemed Artist of the Decade from 2000-2010 by Nielsen Broadcast Data Systems. Also an accomplished actor, McGraw's film credits include "Country Strong," the Academy Award nominated "The Blind Side," "Four Christmases," "The Kingdom," "Flicka" and "Friday Night Lights."
Other artists announced to perform include Brantley Gilbert, Jerrod Neimann, Josh Thompson and Thompson Square, with more artists to be announced to the start-studded line up soon.
Harbor Entertainment will produce the First Annual Delta Country Jam Music Festival with tickets going on sale May 17. Single day passes start at $80, or two-day passes can be bought for just $125.00. VIP Packages start at $280. All can be purchased through Ticketmaster.
Details:
What: Delta Country Jam Music Festival
When: October 4-5, 2013
Where: Tunica, MS on the Abbay & Leatherman Plantation (next to River Bend Golf Links.) Ticket Packages: Single day General Admission passes start at $80. Two-day General Admission packages priced at $125 and VIP packages start at $280, available through Ticketmaster starting May 17, 2013.
Featuring: Tim McGraw, Brantley Gilbert, Jerrod Neiman, Josh Thompson and Thompson Square, and more.
More About Tim McGraw:
After more than two decades on the road, Tim McGraw's ability to entertain and command a crowd continues to be a defining characteristic of both his artistry and superstar status. Tampa Tribune described McGraw's live show as "effortless" while the Atlanta Journal Constitution remarked "he's so casually cool onstage" and OC Weekly said "It's a bold claim, but McGraw could and should be poised to reign as king of country music..."
In his record-shattering career, McGraw has sold over 40 million albums, and dominated the charts with 33 Number One singles. Since the release of his debut album in 1993, he has won three Grammys, 14 Academy of Country Music Awards, 12 Country Music Association Awards, and 10 American Music Awards, while simultaneously maintaining a parallel career as a successful actor in such films as "The Blind Side," "Country Strong," and "Friday Night Lights"—as well as hosting "Saturday Night Live," a rare honor for a singer in any genre. McGraw has never been afraid of breaking new ground; over the years, he has collaborated with musicians from Nelly to Tony Bennett to Def Leppard and Ne-Yo. http://www.timmcgraw.com
More About Brantley Gilbert:
ACM New Male Artist, Brantley Gilbert has already earned a striking set of "notches" on his industry belt, including four #1 singles, impressive album sales of over 1 million and multiple award show nominations from the CMA, ACM, ACA & CMT Music Awards. Having just wrapped his first headlining tour, Gilbert is currently on the road with Tim McGraw's TWO LANES OF FREEDOM 2013 TOUR. His sophomore project, the GOLD-certified HALFWAY TO HEAVEN DELUXE, debuted at #2 on the Billboard Country Albums Chart and has since produced two GOLD-certified, #1 hits – "Country Must Be Country Wide" and "You Don't Know Her Like I Do." As a celebrated songwriter, he has also penned #1 songs – "My Kinda Party," "Dirt Road Anthem," "Country Must Be Country Wide" and "You Don't Know Her Like I Do." In 2011, he garnered the prestigious honor of being the only new artist to have a #1 hit at Country radio. http://www.brantleygilbert.com
More About Jerrod Neimann:
Sea Gayle/Arista Nashville recording artist Jerrod Niemann hit the country music scene with his #1 smash and RIAA-certified Gold Digital Single, "Lover, Lover." Niemann co-produced and was a writer on 10 of the 12 songs on his acclaimed album, Judge Jerrod & The Hung Jury, one of The New York Times'Top 10 Albums of 2010. Upon release, the album debuted at #1 on Billboard's Top Country Albums sales chart and remained the only major label debut to hit #1 on the chart all year. Niemann's multiple award nominations included his first CMA Award nomination as New Artist of the Year. http://www.jerrodniemannofficial.com
More About Thompson Square:
Country music's biggest breakout act of the last 2 years, husband and wife duo Thompson Square pounded the pavement for 15 years in the music industry before landing a record deal with Benny Brown's small independent label Stoney Creek Records (sister label to indie Broken Bow Records and home to Jason Aldean). Since that day, Thompson Square has earned over 25 awards show nominations – including 2 GRAMMY nods – and made music history when it was awarded both the 2012 ACM Top Vocal Duo and 2012 CMA Vocal Duo of the Year. http://www.thompsonsquare.com
More About Josh Thompson:
His first album, Way Out Here, was released in 2010 and the album peaked on Billboard at #9. The CD is filled with songs that reflect the artist - "Beer On The Table," "Blame It on Waylon," "Sinner," "Won't Be Lonely Long," "Always Been Me," "A Name in This Town," "Way Out Here," "You Ain't Seen Country Yet," "Back Around" and "I Won't Go Crazy." "Beer on the Table" became a Top 40 country single, rising to #17, marking Josh's first taste of chart success. Since then Josh has had several songs chart on Billboard, including "Way Out Here," "Won't Be Lonely Long," "Coming' Around" and "Change." His songs are about real life love, anger, hurt, loss and more raw emotions that ring true with brutal honesty to everyone who hears them. If you want to know who Josh Thompson is – his music tells his story. He's currently working on a new album and touring America. http://www.joshthompsonofficial.com
Written by Karen Tallier, LOUDMOUTHpr
Warehouse Multimedia Inc.
Anthony Zecco
pr[at]warehouse multimedia[dot]com 615.420.6153
http://www.warehousemultimedia.com