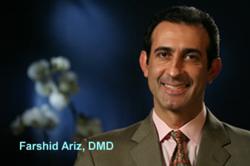 Northridge, CA (PRWEB) October 01, 2012
Tooth loss is not a health condition that any patient should ever take lightly. Not only is the loss of permanent teeth an overwhelming aesthetic issue to deal with, those that leave this prevalent health issue untreated may be at risk for a number of life-altering and painful side effects. This is why Dr. Ariz, dentist in Northridge, is now offering affordable and effective dental implants for all local patients that are in need of smile restoration.
Unlike many other body parts, teeth can stand up to a very large amount of daily wear and tear due to their ability to re-mineralize the outer layer of the teeth. When there is any damage to the roots, jaws, gums, or pulp of the teeth, tooth loss becomes a very real possibility. For those that would like to quickly and permanently restore their smile, the dental implant procedure offered by this team of specialists is now more important than ever.
Northridge Dental Group has worked with countless patients over the years, giving locals access to a multi-specialty practiced that can offer a wide range of treatment and services. Along with advanced dental implants, patients can also head to this dental office for options such as Zoom whitening, Invisalign aligners, dental veneers, teeth cleaning, root canals, bridges, dentures, and more.
Tooth loss is a very serious and prevalent condition, but locals of Southern California are now looking to this dental practice to quickly, painlessly, and affordably restore their smile.
About Northridge Dental Group
For nearly 20 years, Dr. Shahdad Arami, Northridge cosmetic dentist, has remained a leading dentist due to an overwhelming devotion he has to each of his patients. He and the rest of the staff at Northridge Dental Group offer a number of popular cosmetic and restorative treatments ranging from pain-free teeth whitening to porcelain veneers.
Along with Dr. Arami, Farshid Ariz DDS, Northridge dental implants dentist, is another proud member of the team of dental specialists at this practice and has focused much of his post-graduate work on implantology and esthetic implant surgery.
You can call (818) 626-3388 or visit http://www.yournorthridgedentist.com for more information. You can also visit Northridge Dental Group at 9801 Balboa Blvd in Northridge, CA 91325.