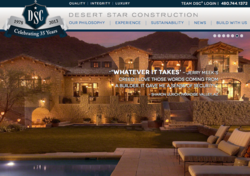 Our website is one of the many essential tools we use to deliver excellence to our clients each and every day.
Scottsdale, AZ (PRWEB) April 09, 2013
Desert Star Construction (DSC) announced today their "Best Website" 2012 win at the 1st Annual AZIMA TIM Awards. Together with Skyhook Internet Marketing, the DSC team worked diligently to strategize, design, and develop a new high-resolution image website that features DSC's custom luxury homes throughout Paradise Valley and Silverleaf, the members and philosophy of Team DSC®, and the DSC sustainability initiatives including award-winning LEED certified and net zero homes and commercial facilities.
"We are honored to be recognized with such an impressive award," stated DSC President Jerry Meek. "We embrace new and innovative technology because along with our green building efforts, our website is one of the many essential tools we use to stay ahead and deliver excellence to our clients each and every day."
Custom features on the new DSC website include:

Team DSC® login platform and customized mobile app for file sharing and personalized project resources
Optimized DSC Gallery and Featured Projects sections
Social media plugins linking Team DSC® profile on Houzz, Twitter, Google+, Facebook, and Pinterest
Sustainability page and "By The Numbers" infographic highlighting DSC conservation achievements
"One of our highest priorities with the Desert Star website was to emphasize our sustainable building practices," stated Meek. "We firmly believe building quality and luxury means being conscious of the affect that custom building has on the environment. Our clients are becoming highly involved in the LEED Certification process. With their help, Team DSC® has already completed one net zero luxury home with others in planning or under construction, including the first ever LEED certified home in Silverleaf."
The "Best Website" Award is the first win of its kind for both DSC and Skyhook Internet Marketing. Jeremy Meek, DSC Sustainability Programs Manager and Project Manager, David Schumm, Senior Project Manager, and Corbin Eckel, DSC Project Manager, partnered with the Skyhook Internet Marketing team to premiere the website in 2012.
"It was certainly a team effort," affirmed Dallin Harris, Director of Strategy for Skyhook. "The end product wouldn't have come out so well without the vision and insights of the DSC team."
In winning this award, Desert Star Construction continues its dedication to building luxury and quality by inspiring authentic relationships and raising The DSC Standard® of excellence.
Visit the award-winning Desert Star Construction website at http://www.desertstarconstruction.com.
About Desert Star Construction
Since 1978, Desert Star Construction (DSC) has produced award-winning new construction and remodel projects that have gained the attention of respected clientele including local leaders, professional athletes and Fortune 500 company presidents. As a member of the U.S. Green Building Council and the first custom home builder in Arizona to employ a LEED for Homes Accredited Professional, Desert Star can ensure the highest standard of sustainable living through a lasting commitment to green initiatives. With a personal approach to homebuilding that begins with listening and understanding every client desire, Team DSC® builds luxury and quality by inspiring authentic relationships and raising the standard of excellence.