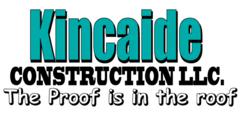 The proof is in the roof
Detroit, Michigan (PRWEB) April 30, 2013
Kincaide Construction is now working with insurance companies for those who have damaged roofs from hail storms. Michigan homeowners can get approved faster and sometimes a new roof replacement with little to no out of pocket expense. Detroit roofing contractors are always ready in event of super typhoon and other calamities, many residents in Michigan are searching to pick up the pieces. For those, they start to ask themselves questions regarding storm damage and what they would do once their property were hit by caustic weather. There is one thing that is definite for roof damage, filing for an insurance claim for storm damage is important. However, it can be confusing, frustrating and miserable. In order to ease the burden of many, Kincaide Construction now helps home owners collect the most money from insurance companies in order to get the most out of a roof repair.
Kincaide Construction is an expert in roof repair and roof replacement associated with weather damage, such as exterior roofing, siding, gutters, windows, interior painting ceiling texture, painting, carpet cleaning, and insulation as well. This construction company is reliable when it comes to dealing with insurance agencies and meeting with insurance adjusters to ensure Michigan homeowners the best for a new roof. Homeowners and business owners alike are benefited by the service provided by Kincaide Construction as they prevent from getting stuck with a resolution which would not cover the expenses or even worse, being denied. Worry no more regarding the expenses as with Kincaide Construction offers a no pay out policy other than the insurance policy.
This construction company agrees to get what homeowner insurance agencies will disburse for the claim which include deductible, and make sure the uppermost quality replacement and repair. Customers may also gain from development that they provide as signing incentives like enhancing the client from three tab shingles up to architectural shingles at extra payment. Kincaide Construction is the most reliable and professionalized roofing contractor in their place and their workers are well trained to the supreme standard with years of experience as well.
Kincaide Construction see to it that all essential information and data needed regarding insurance claim is obtained. Customers are needed to give a copy of the summary report of insurance adjusters in order to assess the scope of task and to determine all measurement to make sure all harm is accessed well and reported as it should be. Then they will match the agreement to the job detailed in the summary of insurance adjuster after this they factor the signed agreement to the insurance agency. For instance, if there is a credit on the property, the name of the mortgage company will most probably put the check together with the insurer.
Kincaide Construction also operates a Detroit dumpster rental company. For further information about the services provided by the company, please free to visit their website at roofingandsidingdetroit.com or call their customer hotline number. This press release was submitted by Get Local a Google maps marketing agency.
Kincaide Construction
20853 Roche Rd
Brownstown Twp, MI
(734) 274-8120
http://www.roofingandsidingdetroit.com