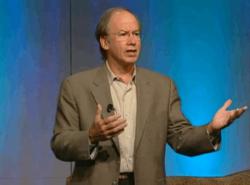 Celebrating the best allows us to fall in love with it and that connects us with our passion, that emancipates the energy."
Seattle, WA (PRWEB) December 04, 2012
Finding a Dewitt Jones training video will no longer be a difficult endeavor thanks to consulting giant Carlton's Training Solutions. The message is straight forward. Employees have to be inspired in their jobs to do their best work. But it's not a raw-raw pep talk. Rather, the programs by Carlton's Training Solutions like the Dewitt jones videos offer complex strategies on how to motivate employees to execute goals.
Focus the vision. Train your technique. Put yourself in the place of most potential. Then be open to the possibilities. These are the tenants of the foundation which comprises the philosophy of Dewitt Jones. An organization is trying to perform at their peak. And to do so they have to find the answers to their problems. Finding the right answer. When a company does these four things those right answers just keep coming.
For the Love of it is a Dewitt Jones video that examines the nature of the human spirit and how people are motivated to do what they do. A sense of importance. A sense of comraderie. A sense of accomplishment. This program pragmatically finds the right words, the right language and the right style of leadership that best inspires co-workers. See just what can be done to make employees lives and work extraordinary.
In the title Celebrate What's Right with the World, Jones shows organizations what might be accomplished by focusing on what they do right. It's amazing to see the leaps in technology and education and even transportation utilizing this valuable tool. Like the lightbulb there are so many ways not to create light. Focsing on what's right leads companies down the right path to their success.
Carlton's Training Solutions celebrates Dewitt Jones because of the good it has done for their clientele. Companies have made huge changes implementing the ideals in the Dewitt Jones videos.
About Carlton's Training Solutions.
Carlton's Training Solutions adheres to the philosophy that which we focus on is what we become. For thirteen years this large consulting firm has manifested success from the willing organizations coming to them for their training. Employee development is something they believe in fiercely and work hard to promote programs to assist companies in their endeavors. Dewitt Jones, Bob Farrell, John Cleese, Catherine Crier, Morris Massey, Lou Holtz, Tom Peters, and Stephen Covey are some of the business minds tapped for their corporate training videos. The subjects Carlton's tackles ranges from generational issues and harassment training to diversity and sexual harassment training. To learn more about Carlton's Training Solutions and their programs click here at http://carltonstraining.com